Culture
In the mid-1850s, in the wake of mass Irish immigration, Massachusetts' virulently anti-Catholic Know-Nothing party passed the nation's oldest, most restrictive Anti-Aid Amendment, which prohibits disbursement of public funds to parochial-school parents.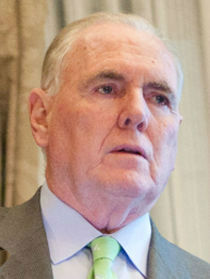 ''People are consumed. They lust after the presidency," historian Richard Norton Smith commented about James G. Blaine of Maine and the election of 1884. "It's a distorting, warping malignancy that they suffer from..."

Late January marks both the birth and death of Blaine, a largely forgotten Gilded Age politician. His infamous legacy of 38 bigoted "Anti-Aid Amendments" in state constitutions still blocks greater school choice across America.

Our Founding Fathers' educational vision was one of local control and Enlightenment ideals about religious liberty. Across the early republic, state and local funds moved freely among religious teachers, families, and schooling.

Distorted lawmaking in Blaine's era -- which historians believe closely mirrors our own troubled times -- marked a steep descent from the Founders' aspirations.

James Blaine was an opportunistic and corrupt late 19th-century Republican. Promoting robber barons and railroads, he served in the U.S. House of Representatives, where he became speaker in 1869; then as a U.S. senator; and as U.S. Secretary of State under three presidents. He secured the GOP nomination in his third run for the presidency in 1884.

Blaine thrived in a political world dominated by bribes, business kickbacks, and vote-buying. His nicknames weren't altogether flattering: "Slippery Jim," the "Father of American Imperialism," and the "Continental Liar." He was described as smart, ambitious, and devious.

Although Blaine's mother and daughters were devout Roman Catholics, and his cousin was a nun who founded the Sisters of the Holy Cross, he was a Protestant pol who pandered to anti-Catholic prejudice while grasping for the White House.

In the mid-1850s, in the wake of mass Irish immigration, Massachusetts' virulently anti-Catholic Know-Nothing party passed the nation's oldest, most restrictive Anti-Aid Amendment, which prohibits disbursement of public funds to parochial-school parents.

Twenty years later, President Ulysses S. Grant proposed a federal Constitutional Anti-Aid Amendment. Blaine's Anti-Aid bill followed, barely failing to receive congressional approval. Ultimately, his nativist scheming encouraged widespread adoption of state Anti-Aid Amendments.

But Blaine's intolerant ways finally caught up with him. At a New York City campaign event in late October 1884, he shared the stage with a narrow-minded Presbyterian minister who described Democrats as the party of "rum, Romanism, and rebellion." Blaine lost New York by 1,047 votes, costing him the Electoral College and victory.

Instead of condemning the bigoted legacies of figures like Blaine, today we honor them. His name adorns "Blaine House," the Maine governor's mansion. In Massachusetts, the portrait of Know-Nothing party Gov. Henry J. Gardner hangs prominently in the State House.

Know-Nothing and Blaine amendments are the topic of "Big Sacrifices, Big Dreams," a new documentary film from Pioneer Institute. These discriminatory legal barriers prevent urban families from directing the academic destinies of their schoolchildren. Our hope is to promote wider understanding of this important issue.

Massachusetts's own Puritan roots established an early history of religious intolerance. Although John Adams's 1780 state constitution specifically encouraged religious instruction and open-mindedness, by the mid-19th century the commonwealth became a nest of nativism. And in 1917, the Bay State passed a second, bigoted Anti-Aid Amendment. Michigan passed one as recently as 1970.

Nationwide, Know-Nothing and Blaine amendments prevent millions of American families, who are stuck with chronically underperforming public schools, from receiving education vouchers or tax credits to support their school choices.

American K-12 school funding should follow the student, as it does with government higher-education loans. Then parents -- not the state -- could choose from a variety of public, private, and parochial-school options for their children.

Massachusetts has the best K-12 public schools in the country, but we also have wide achievement gaps. As good as the commonwealth's public schools are, the 67,000 students enrolled in its Catholic schools, for example, do even better.

States could revitalize their urban educational landscapes and give poor kids access to higher-quality schooling by repealing nativist Anti-Aid Amendments.

"Blaine from Maine" has plainly been a pain for religious freedom and school choice in America. Our state and national constitutions were framed to protect, expand, and perpetuate human liberty. As an enlightened people, we need to rid ourselves of these bigoted legal barriers that grievously restrict the K-12 school options and civil rights of families.

(Editor's note: The documentary film "Big Sacrifices, Big Dreams," can be viewed online at the Pioneer Institute's website, pioneerinstitute.org/bigdreamsfilm.)

Raymond Flynn is a former three-term Mayor of Boston and a former United States Ambassador to the Holy See. Jamie Gass is director of the Center for School Reform at Pioneer Institute, a Boston-based think tank.

- Raymond L. Flynn is the former U.S. Ambassador to the Holy See and Mayor of Boston.
Recent articles in the Culture & Events section