Culture
These young families, along with the retired senior citizens that I had previously spoken to, are all part of the growing group of forgotten Americans today.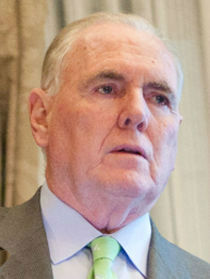 The past week, I spoke at four outstanding Catholic High Schools in Massachusetts about the importance of Catholic education, with parents, clergy and students. It was so good to hear many positive stories about how well children are doing in our Catholic schools. But I also got the opportunity to listen to people talk about other issues of deep concern to them and their community like public safety, gangs and drugs.

While I certainly have heard these same points of view in my own South Boston community many times, it was a conversation I had with a recently retired worker at Bishop Connolly in Fall River which concerned me a lot.

A man in his middle 60s with his wife said to me, "Ray, I liked what you said about the importance of both private and public school education and school choice. They should not be in competition with one another. But we have another issue which we are concerned about, and that is the growing cost of health care, including prescription drugs."

"We are retired and on a fixed income. Our health insurance co-pay keeps going up, and our doctor visits get longer and longer. We are sensing serious cutbacks. But we rarely hear our political leaders talk about health care issues anymore. It seems like every cause has a powerful advocate in Washington and at the State House, except us. The elderly vote was once one of the highest priorities for elected officials, but that doesn't seem to be the case today," he told me.

A few minutes later, we watched a movie documentary entitled, "Big Sacrifices, Big Dreams," a movie produced by Pioneer Institute about ending America's bigoted education laws. (Contact Pioneer Institute on how to see it.) In the movie we saw wonderful Massachusetts working class families fighting to raise their children, but never getting any help or assistance from government. These young families, along with the retired senior citizens that I had previously spoken to, are all part of the growing group of forgotten Americans today. I know we have many concerned public officials, but it's still up to us to let them know how we feel about the challenges that the middle class are experiencing today. They are not poor enough to receive any benefits, and they are not rich enough to pay for the high costs of education and health care.

I said to a couple of dedicated priests, Father Jay Mello and Father Chris Peschel in attendance from Fall River and Attleboro, after the meeting, "I really admire these families' dedication and determination. They are American heroes. But we've got to figure out how we can help them succeed as parents."

Father Chris responded, "Mayor Flynn, you're right and I will be taking your words of encouragement back to my people in Attleboro. I sincerely want to thank you for lighting a torch that my generation must now carry forth."

After also talking with concerned students, parents, clergy, and teachers from Marian High in Framingham, to Boston College High School in Dorchester, to Fontbonne Academy in Milton to Bishop Connolly High School in Fall River, I am convinced that America's best days are not behind us, but it will take the courage and commitment of more of us to come forward and speak out and get involved in our community and country. I told these groups of outstanding Catholics, that I often heard my friend Pope John Paul II tell us, "that a good Catholic is a faithful citizen." I am convinced that strong families hold the key to the future of America, but they must get involved in the civic life of our community.

- Raymond L. Flynn is the former U.S. Ambassador to the Holy See and Mayor of Boston.
Recent articles in the Culture & Events section