Relic stolen from cathedral recovered in Vermont
---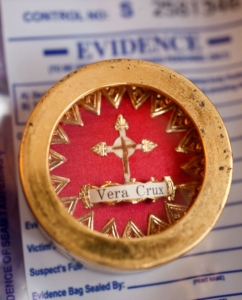 The relic of the True Cross Christ that had been stolen from the chapel of the Cathedral of the Holy Cross in July is pictured at the cathedral rectory Aug. 18. Vermont State Police recovered the relic Aug. 9 from 34-year-old Earl Frost who later fled. He was arrested Aug. 17 in New Hampshire on an unrelated warrant. Pilot photo/ Gregory L. Tracy
BRAINTREE -- One of the Archdiocese of Boston's most cherished relics that had been missing from its mother church for over a month has been returned to the archdiocese.

The relic of the True Cross, which had been housed in a reliquary in the Blessed Sacrament Chapel at the Cathedral of the Holy Cross in Boston's South End, was turned into the Vermont State Police. Officials from the cathedral retrieved the relic on Aug. 15.

The relic, a splinter of wood believed to be from the cross on which Jesus was crucified, was to be placed in its original reliquary at a prayer service Aug. 18 at 7:30 p.m. at the cathedral.

"I think we're thankful it's been returned," said cathedral pastoral associate Bob Travers. "We want to get it back to where it was originally so people can venerate the cross and pause and reflect in prayer."

According to an incident report released by the Vermont State Police, the relic was recovered on Aug. 9 after they received a call about a domestic argument that ensued in a Royalton, Vt. trailer park over the relic involving Earl Frost, 34. Frost, a transient, who turned the relic over to Vermont State Police. Frost claimed he received it from another person in Rhode Island.

According to the incident report, Frost said he had wanted to give the relic directly to the cathedral instead of to law enforcement.