Bishops Kennedy and Uglietto ordained
---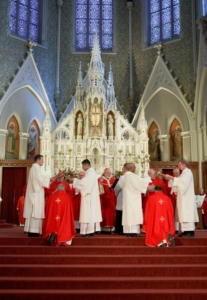 Deacons hold the Book of Gospels over the heads of Bishops Arthur Kennedy and Peter Uglietto during their ordination to the episcopate Sept. 14, the Feast of the Exaltation of the Holy Cross. Pilot photo/Gregory L. Tracy
SOUTH END -- On the Feast of the Exaltation of the Holy Cross, Sept. 14, Bishops Arthur Kennedy and Peter Uglietto were ordained to the episcopate by Cardinal Seán P. O'Malley.

With their ordination, Bishops Kennedy and Uglietto became the 34th and 35th auxiliary bishops of Boston.

Co-consecrators were Boston's other auxiliary bishops -- Robert Hennessy, John Dooher, Francis Irwin, Walter Edyvean, Emilio Allue, and John Boles.

Nearly 300 priests and bishops from around the country were in attendance to witness the ordination of Bishops Kennedy, 68, and Uglietto, 58, in the nearly three-hour ceremony. Among those present was Cardinal William Keeler, Archbishop Emeritus of Baltimore.

Leaders of other local faith communities also attended the ordination, including Greek Orthodox Metropolitan Methodios of Boston.

The Rite of Ordination began with a petition for ordination to Cardinal O'Malley and readings of the Apostolic mandates of Pope Benedict XVI appointing each respective bishop.

In his homily that followed, Cardinal O'Malley linked the role of a bishop to the triumph of Jesus Christ on the cross.

"Our bishops need to be men of the cross, transformed by the love and power of the Holy Cross," Cardinal O'Malley said.

Cardinal O'Malley also reminded the faithful that in the cross is redemption for sin. He made reference to the fall of Adam and Eve in the Book of Genesis.