Obituary: Father Dennis Nason, pastor in Haverhill
---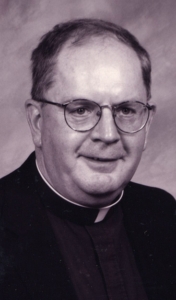 Father Dennis T. Nason Pilot photo
"Wherever he was, he was loved." The epithet that every priest probably wishes, but which ever priest who knew Father Dennis Nason would also agree was perfectly appropriate.

A native of Newburyport, Dennis T. Nason was born there on June 9, 1939. He was one of the nine children of the late Clinton and Anna (Cronin) Nason. After graduating from Newburyport High School, he entered the archdiocesan seminaries at Cardinal O'Connell in Jamaica Plain; then to St. Clement Hall, and St. John's in Brighton. Richard Cardinal Cushing ordained him to the priesthood at Holy Cross Cathedral on May 26, 1966.

His priestly ministry of 44 years was almost equally divided between assignments as an assistant for 19 years in three parishes and pastor for 25 years in three parishes. Immediately following ordination he was named assistant at St. Michael Parish, North Andover. Five years later he was named as an associate at Holy Name, West Roxbury where he served for the following decade; in 1981 he was named parochial vicar at Our Lady of Mercy Parish, Belmont. Priests and people alike were amazed at his calm, even serene, style amidst the great challenges of the parishes not a few of them created for him by brother priests.