From Cardinal Seán's blog
---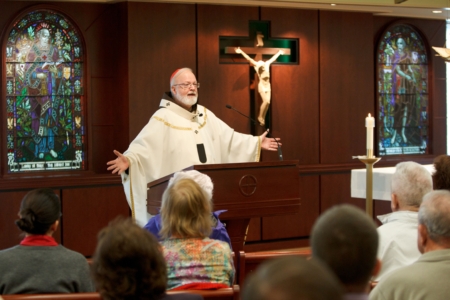 'Of course the following day (Nov. 2) was All Souls Day, which is one of the two days of the year when a priest is allowed to celebrate three Masses. (...) I celebrated the mid-day Mass at the Pastoral Center and I celebrated my other two Masses at the cathedral.' Pilot photo/CardinalSeansBlog.org
Last Tuesday (11/2) was Election Day, and there were some things to be happy about. Certainly, one is the fact that Massachusetts voters opted to allow the Affordable Housing Law to stay on the books. That legislation has allowed the Church and many other non-profit organizations to do a great deal to remedy the housing shortage for low and moderate-income families. I am also very pleased a pro-life Catholic, John Boehner from Ohio, is expected to be the new Speaker of the House. We hope that the pro-life voice will be heard, and that more and more pro-life people will see the field of politics as a vocation for them to be able to defend the Gospel of Life.
Visit with Catholic Leadership Institute
On Thursday (10/28), I was visited by officials from the Catholic Leadership Institute, and they updated me on some of their very important work. We're so grateful for the work that they do and the excellent leadership training they give to so many of our pastors, Good Leaders, Good Shepherds. We are about to start another session of that program here in the archdiocese.
100th anniversary of school
On Sunday (10/31), I had a Mass, and visited the parish school, at Immaculate Conception in Marlboro. The parish is much older than the school, but the school is celebrating its 100th anniversary this year. The people, of course, were all very happy to see Father Jonathan Gaspar, who served there before he became my priest secretary. It's a parish that has a large Hispanic and Brazilian population, and has a beautiful church and school. Father Michael MacEwen is an extraordinary pastoral leader in the parish.
All Souls Day
Page 1 of 2