---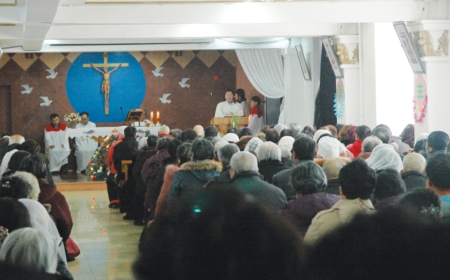 Father Hou Jun Jie, the pastor of Jilin City's Sacred Heart of Jesus Christ Church, preaches at the Christmas Day Mass. There are 5,000 worshipers who attend Mass at the city's only Catholic church. Pilot photo/ Neil W. McCabe
Editor's note: This report was filed by Pilot reporter Neil McCabe, currently on active duty with the U.S. Army, who made a trip to China while on leave during the Christmas Season.

Despite bracing cold, Chinese worshipers in Jilin City, a city in the region once known as Manchuria, marked the birth of our Savior at Masses celebrated at Sacred Heart of Jesus Christ Church, a majestic structure with its doors facing the mighty Songhua River.

Sacred Heart is the only Catholic church in the city of 4 million and its parish community has grown in recent years to more than 5,000 believers, said Father Guo Sheng "Joseph" Wang, a parochial vicar at the parish and the director of its social services ministry.

Father Wang said for Christmas there were three Masses: Christmas Eve, Midnight Mass and Christmas Day.

Because of harsh temperatures that reached only 10 degrees during the day and lows of 15 degrees below zero at night, Father Wang said the Masses could not be held in the unheated 1926-built church because of concerns for elderly worshipers. Instead, the Masses were held in the parish hall chapel.

At the Christmas Day Mass, the chapel was packed with more than 500 congregants, who crowded the pews, aisles and open areas in the back. There were also more than two dozen parishioners lined up at the confessional.