---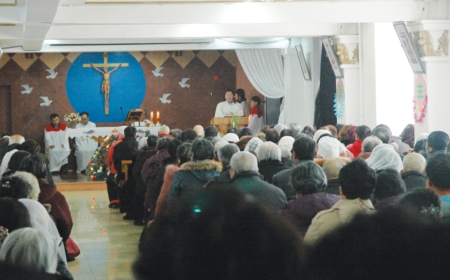 Father Hou Jun Jie, the pastor of Jilin City's Sacred Heart of Jesus Christ Church, preaches at the Christmas Day Mass. There are 5,000 worshipers who attend Mass at the city's only Catholic church. Pilot photo/ Neil W. McCabe
Editor's note: This report was filed by Pilot reporter Neil McCabe, currently on active duty with the U.S. Army, who made a trip to China while on leave during the Christmas Season.
Despite bracing cold, Chinese worshipers in Jilin City, a city in the region once known as Manchuria, marked the birth of our Savior at Masses celebrated at Sacred Heart of Jesus Christ Church, a majestic structure with its doors facing the mighty Songhua River.
Sacred Heart is the only Catholic church in the city of 4 million and its parish community has grown in recent years to more than 5,000 believers, said Father Guo Sheng "Joseph" Wang, a parochial vicar at the parish and the director of its social services ministry.
Father Wang said for Christmas there were three Masses: Christmas Eve, Midnight Mass and Christmas Day.
Because of harsh temperatures that reached only 10 degrees during the day and lows of 15 degrees below zero at night, Father Wang said the Masses could not be held in the unheated 1926-built church because of concerns for elderly worshipers. Instead, the Masses were held in the parish hall chapel.
At the Christmas Day Mass, the chapel was packed with more than 500 congregants, who crowded the pews, aisles and open areas in the back. There were also more than two dozen parishioners lined up at the confessional.
When it was built by French missionaries, Sacred Heart was the local cathedral because Jilin was then a provincial capital. In the 1994, the diocesan seat was moved to Changchun, the current capital of Jilin Province. During the Cultural Revolution, 1966 to 1976, the church was closed and damaged. In 1980, it was allowed to reopen as part of the officially recognized Catholic Church in China.
Beginning in the 1990s, the government has funded repairs to both the church building and the other parish buildings.
The church and its surrounding fenced-in campus comprise a rectory, a parish hall and a performance stage along with ancillary storage sheds. Across the street behind the church, there is a health clinic for seniors.
During his August 2010 visit to the China, North Korean leader Kim Jong Il took a short tour of the church, where he said his father once sought sanctuary from the Japanese authorities during the Second World War. It is also a short walk from the Yumen Middle School, the elite Marxist school his father attended.
Father Wang said he has been a priest in Jilin Province since 1997. He grew up in Jilin City and was raised in a Catholic family. As a young man he was pressured by his father and a friend of his father to study for the priesthood, but he always resisted. Finally, he attended a religious festival and was overcome with the feeling that in fact it was his calling to be a priest.
Although he continued to resist it, he prayed for six months until accepting his vocation and he said he was admitted to Jilin Seminary in a class of 13 seminarians.
Since his ordination, Father Wang has had four assignments. For his first three years, he taught at the seminary, before his three stints at country parishes. He began his tenure at Sacred Heart of Jesus Christ Church Jan. 28, 2008.
At the parish, Father Wang shares duties with three other priests. There are two American Maryknoll priests who teach at the city's Bei Hua University.
"Our social services ministry will mark its fifth year in operation in February," he said. He is the second director. "The vision for Tianji Social Services is to promote a warm, loving, peaceful and harmonious community for everybody"
In addition to raising the profile of the city's Catholic population, the priest said the program provides student scholarships, youth activities and a home visit ministry for the elderly, poor families and those struggling with HIV/AIDS and other diseases.
Father Wang said the Church in Jilin Province and in the city is growing, but not quickly. In the province itself, there are more than 40 individual houses of worship for roughly 80,000 Catholics.
One of the 5,000 parishioners of Sacred Heart is 70-year-old Maria Qiao, who said she was baptized five years ago.
"I had a friend who was a Catholic and she told me to come to the church with her and see how having a relationship with God could help me," she said.
Page 1 of 2