Boston forum discusses need for school choice
By Jim Lockwood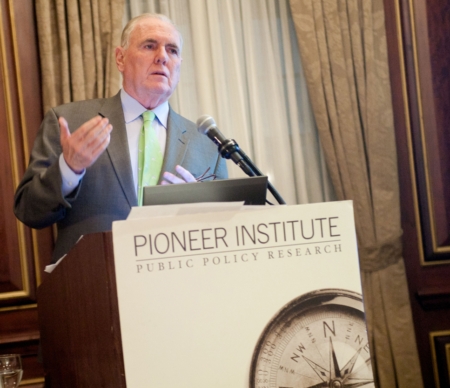 Former Boston mayor and Vatican Ambassador Raymond Flynn delivers the keynote address at a March 16 forum on school choice sponsored by the Pioneer Institute. Pilot photo/ Jim Lockwood
Posted: 3/25/2011
BOSTON -- It is time to lift state restrictions on aid to students in private schools, including Catholic schools, former Boston mayor and Vatican ambassador Raymond Flynn told a forum on school choice March 16.

Flynn keynoted a breakfast forum at the Omni Parker House Hotel hosted by the Pioneer Institute, a Boston-based public policy research organization, to discuss the merits of families receiving state aid to send their children to private schools.

The meeting also coincided with the release of "Be Not Afraid: A History of Catholic Schooling in Massachusetts," the institute's latest public policy paper released this month, that argues for the repeal of the so-called Know-Nothing or Anti-Aid Amendments.

"Pioneer has always had a longstanding interest in private school choice as a means to make sure inner-city kids have access to school choice," said Executive Director Jim Stergios.

The Know-Nothing amendments were revisions to the Massachusetts constitution in 1854 and 1917 that prohibited state aid to students in religious schools. They take their name from the nativist Know Nothing political movement of the mid-19th century formed to oppose the rising influence of Irish and German Catholic immigrants.

In his keynote address, Flynn said that many families currently cannot afford private education and a lack of state aid for this purpose constitutes discrimination against poorer families.

"What's happening is atrocious," Flynn said.

He also called the situation "an embarrassment to our country and our city."

Flynn encouraged school choice advocates to frame the issue as a means of creating opportunity for people.

An ensuing presentation by Patrick Wolf, an education researcher at the University of Arkansas, outlined the benefits of private education such as higher test scores and college graduation rates.

The presentation outlined options for achieving school choice, ultimately concluding that a repeal of the Know-Nothing Amendments is the best option.

Wolf discussed tax credits for families that send their children to private schools.

However, during the ensuing panel discussion the superintendent of the Medford Public Schools Roy Belson noted that Wolf's report does not account for special education students.

"They (private schools) don't serve the same population," Belson said.

Speaking with The Pilot following the discussion, Belson said a better approach than enacting school choice legislation would be to share services such as professional development efforts and Title I funding, which provides federal money for supplemental educational programs for disadvantaged students.

"There's not enough resources to go around," he said.

Also participating in the panel discussion was Archdiocese of Boston Associate Superintendent for Academic Excellence Bill McKersie.


Page 1 of 2

If you found this article interesting please consider helping us continue to spread the Good News.