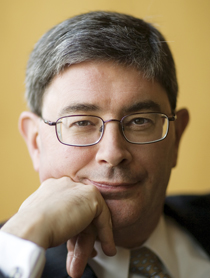 Benedict XVI on Europe's future
---
World Youth Day 2011, to be held in Madrid from Aug. 16-21, will be an important moment in Pope Benedict XVI's campaign to remind Europe of its Christian roots and to call Europe to a nobler understanding of democracy. As the Holy Father demonstrated in an address in Zagreb, Croatia, in early June, the two parts of that campaign -- the recovery of Christian roots and the deepening of 21st-century Europe's idea of democracy -- go together.

In remarks to Croatia's religious, political, business and cultural leaders in Zagreb's National Theater, the pope refined into six digestible propositions the case he has been making about religion-and-society ever since his election to the papacy in 2005:

1. Religious conviction is not something outside society; it is part of society's inner core: "Religion is not a separate area marked off from society...[but] a natural element within society, constantly recalling the vertical dimension: attentive listening to God as the condition for seeking the common good, for seeking justice and reconciliation in the truth."

2. The human element in religion is imperfect and flawed; there is no shame in admitting this, for reason can help refine religious passion: "Religions need always to be purified according to their true essence in order to correspond to their true mission."