New community prepares for Mass of blessing
---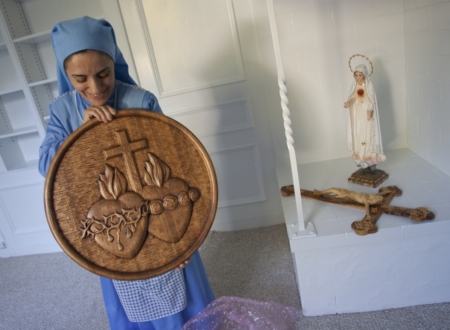 Sister Olga Yaqob holds the new crest for the Daughters of Mary of Nazareth at the community's Newton convent Oct. 7. Pilot photo/ George Martell, Pilot Media Group
NEWTON -- Cardinal Seán P. O'Malley will bless the first candidates of a new community of women at the Cathedral of the Holy Cross Dec. 9.
The Daughters of Mary of Nazareth are one of three new communities forming within the Archdiocese of Boston.
In April, the archdiocese announced that Sister Olga Yaqob had accepted the cardinal's invitation to discern a new religious order upon completing her service at Boston University's Catholic Center.
"In every step of my work on the process of the establishment of this new community, I rely on our Lord Jesus and His Spirit guiding me for the service of His bride, the Church," Sister Olga wrote in a statement to The Pilot.
"The Lord has been leading me through the guidance of the shepherd of our Church, Cardinal O'Malley; the spiritual direction of Father Bob McCreary, OFM Cap.; the canonical assistance of Brother Jim Peterson OFM Cap.; and the support of Sister Marian Batho, CSJ, the Delegate for Religious in the Archdiocese of Boston," she said.
Regarding the name of the community, Sister Olga explained that she preferred the term "daughters" instead of "sisters" because "it emphasizes our need to imitate our Mother, Mary of Nazareth."
"This keeps us always humbly looking at her as our example and our guide."
"Nazareth offers a spirituality that everyone can imitate, young and old, men and women, children and parents. The meaning that lies in the heart of this spirituality is that each one of us can live as a witness of love in action and can become like a star of Bethlehem that leads people to encounter God's universal love. This call to be a star that leads others to know Jesus doesn't require heroic gestures or a sensational turnaround in one's life. It is rather a call to be His witnesses with love and joy in the ordinariness of everyday life right where we are. Each of us can become that star -- and what better time than now."
The new community will be located at a convent in Newton that is named after St. Joseph of Nazareth and Sister Olga held two discernment weekends for women last month at the location.
"We have had many people helping us by offering their time, manual labor, furniture, sheets, towels, dishes and so forth. Among our many volunteers we had four priests, ten seminarians, seven married couples, six children and many young men and women. I am very humbled to witness such a labor of love by all these people from various vocations and stages of life. It is truly a reflection that this new foundation is the work of the Church and for the Church."
The four candidates preparing to be accepted as aspirants are Jennifer Burda, Jeannine Cinco, Lydia Longoria and Katie Quinn. They and eight other women participated in a vocational discernment group at Boston University.
"Some of these twelve young women have been waiting for the last three years and prayerfully discerning to see the birth of this new foundation," remarked Sister Olga. "I have been a spiritual director to most of them, and have gone on many service trips with them.
At the ceremony, Sister Olga as founder, will receive Cardinal O'Malley's blessing as she makes a commitment to be the servant mother of the community.
Page 1 of 2