New community prepares for Mass of blessing
---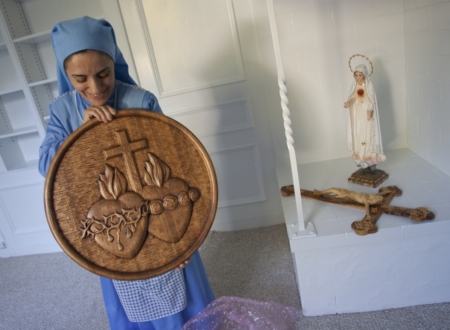 Sister Olga Yaqob holds the new crest for the Daughters of Mary of Nazareth at the community's Newton convent Oct. 7. Pilot photo/ George Martell, Pilot Media Group
NEWTON -- Cardinal Seán P. O'Malley will bless the first candidates of a new community of women at the Cathedral of the Holy Cross Dec. 9.

The Daughters of Mary of Nazareth are one of three new communities forming within the Archdiocese of Boston.

In April, the archdiocese announced that Sister Olga Yaqob had accepted the cardinal's invitation to discern a new religious order upon completing her service at Boston University's Catholic Center.

"In every step of my work on the process of the establishment of this new community, I rely on our Lord Jesus and His Spirit guiding me for the service of His bride, the Church," Sister Olga wrote in a statement to The Pilot.

"The Lord has been leading me through the guidance of the shepherd of our Church, Cardinal O'Malley; the spiritual direction of Father Bob McCreary, OFM Cap.; the canonical assistance of Brother Jim Peterson OFM Cap.; and the support of Sister Marian Batho, CSJ, the Delegate for Religious in the Archdiocese of Boston," she said.

Regarding the name of the community, Sister Olga explained that she preferred the term "daughters" instead of "sisters" because "it emphasizes our need to imitate our Mother, Mary of Nazareth."

"This keeps us always humbly looking at her as our example and our guide."