Obituary: Father Thomas Fleming one time pastor in South Boston, Dedham and Gloucester
---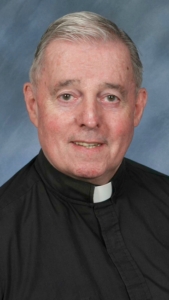 Father Thomas J. Fleming Pilot file photo
Central Regional Bishop Robert Hennessey was the principal celebrant of the Funeral Mass of Father Thomas J. Fleming at St. Mary of the Assumption Church, Brookline on Dec. 29. Father Fleming, a native son of the Brookline parish, died at Regina Cleri Residence on Dec. 23. He had celebrated his 80th birthday this past Oct. 10.

He was one of three children of the late Thomas and Winifred (Hughes) Fleming. His sister, Mildred and bother Bernard, one time Brookline Chief of Police, both predeceased him. After attending both the parish elementary and high schools, he crossed the town to attended Boston College in nearby Chestnut Hill. He was graduated with the BS in Business Administration in the class of 1953 at The Heights.

He entered St. John Seminary and Bishop Jeremiah Minihan ordained him to the priesthood at Holy Name Church, West Roxbury on Feb. 2, 1959. The class was too large for the Cathedral to accommodate family and friends, so about one-third were ordained at West Roxbury.

Except for a seven year stint as Chaplain for the United States Army (1971-1978) Father Fleming's entire active ministry was in parishes across the archdiocese. He was an assistant at St. Bridget, Abington following ordination to 1965; and Assistant at St. Patrick, Roxbury 1965-1971.