Hundreds of local youth to attend March for Life
---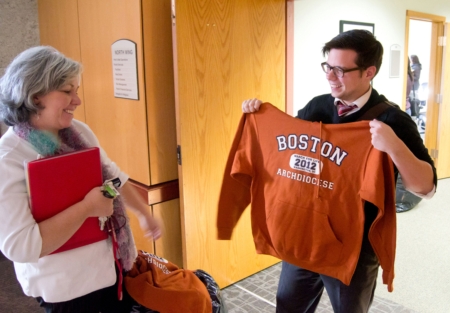 Cardinal Spellman High religious studies department head Cathy Demers and campus minister Tim Gannon pick up sweatshirts on Jan. 10 at the Pastoral Center in Braintree, a gift from the archdiocese to the 17 students from the school attending the March for Life in Washington, D.C. The Brockton students are among a Boston group of almost 500 young people attending the march this year. Pilot photo/Christopher S. Pineo
BRAINTREE -- Nearly 480 youth and young adults from the Archdiocese of Boston will join Cardinal Seán O'Malley for the annual March for Life this year in Washington, D.C.

Ten buses will leave the Pastoral Center to transport the young people to the pro-life pilgrimage on Jan. 22. Participating youth and young adults will experience daily Mass, daily rosary and chaplet of Divine Mercy. During the trip there will also be an opportunity to visit the National Basilica Shrine of the Immaculate Conception, the Holocaust Museum, the Lincoln Memorial, the War Memorials and Arlington National Cemetery.

"We are overjoyed this year at the tremendous response, and as a result of that the tremendous advocacy amongst our parishes and schools to bring young people," said Father Matt Williams, director of the Office for the New Evangelization of Youth and Young Adults.

"The leaders, and the pastors, and the campus ministers have done a phenomenal job in advocating for this march, and helping young people come to be involved in issues like this," he added

Father Williams noted two pilgrimage events he is particularly excited about.

On the Sunday night before the march, there will be a special concert with Matt Maher at a rally sponsored by the Diocese of Arlington, Va. Bob Rice, an assistant professor of catechetics at Franciscan University of Steubenville, Ohio, will also be on hand.