Sisters rally against human trafficking
---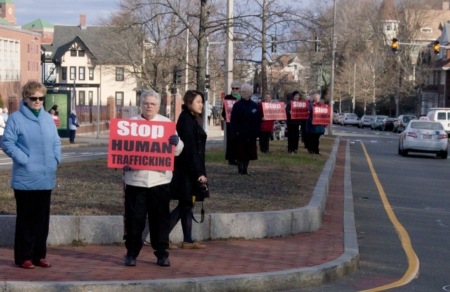 Participants in the Jan. 8 prayer vigil sponsored by the Anti-Trafficking Coalition of the Boston unit of the Leadership Conference of Women Religious display signs to passing motorist outside the Sisters of St. Joseph's motherhouse in Brighton. Pilot photo/Christopher S. Pineo
BRIGHTON -- At their motherhouse in Brighton, the Sisters of St. Joseph hosted Catholic women religious from the Greater Boston area, activists, and others for a prayer vigil against human trafficking in the Boston area and the world.

The Anti-Trafficking Coalition of the Boston unit of the Leadership Conference of Women Religious estimated that 125 people came to the Chapel of the Sisters of St. Joseph Motherhouse for the vigil on Jan. 8, as they commemorated the first Sunday before National Human Trafficking Awareness Day on Jan. 11. As a large group arrived for the event, sisters ran out of the 100 programs they printed for the vigil.

"There are some faithful who come year-after-year, but each year we see new faces, which is very exciting," Sister Mary Lou Simcoe, SUSC, said.

The sisters and participants met in the chapel of the motherhouse in Brighton, where they shared prayers, welcomed one another, and organized before a half-hour vigil on Cambridge Street.

"We are very, very thankful for your presence today. We are here to be publicly standing for the poor slaves of today in their struggle for justice," Sister Ellen Powers, CSJ said, in her welcome.

As the group moved into the street, they carried a banner and signs as they spread quietly to both sides of the street and onto the median strip. Women religious from 10 other congregations joined them according to Sister Marilyn McGoldrick, CSJ.