From Cardinal Seán's blog
---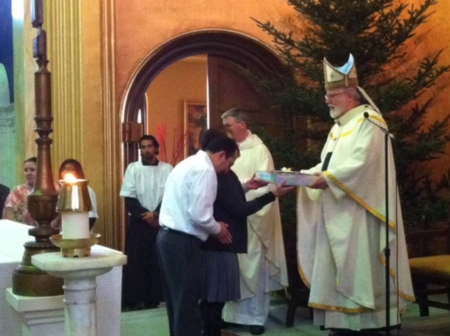 'I was very happy to join with St. Mary Parish in Waltham for their celebration of the Epiphany... Afterward, I celebrated the Mass in Spanish.' Pilot photo/CardinalSeansBlog.org
In the cathedral we are blessed to have a community of Ge'ez Catholics and it was a joy to be with them for their celebration of the Epiphany last Friday (1/6). The Ge'ez Rite is something like the Catholic counterpart of the Coptic Church and the parishioners who comprise that community are Ethiopians and Eritreans. That in itself is, I think, a great witness to the faith: that despite the tensions that exist between those two nations, Catholics can come together to worship in communion. The celebration is very long and elaborate and there are a number of aspects that might seem unfamiliar to a Latin Rite Catholic. For example, the Mass was almost four hours, starting around 8:30 at night and continuing until after midnight. When they distribute Communion, it takes a whole team of people to do it, because one person is ringing a bell, another is holding an umbrella, another is holding a candle, another has the paten, and yet another person the chalice. The women and men also sit separately in the chapel.
The local Ge'ez community recently started their choir here in Boston. The numbers have grown over the past year, which I feel very happy to see. After the Mass, they sang Christmas Carols, danced and played drums. We are so pleased that this community is part of the Cathedral parish family and their presence enriches the Church in Boston.
Epiphany Celebration in Waltham
In the United States, we transfer the celebration of the Epiphany to the Sunday. So, the Epiphany in our Latin Rite parishes fell on Sunday, January 8, rather than January 6, as in the Ge'ez Rite. I was very happy to join with St. Mary Parish in Waltham for their celebration of the Epiphany. I went to the English Mass to greet them, give a brief talk, and to congratulate them on the 175th anniversary of their parish, which they recently celebrated. Afterward, I celebrated the Mass in Spanish. After the Spanish Mass, the parishioners presented a play about the three kings. It was wonderful to see the church was packed for that.
Gathering with the Faber Community
On Sunday (1/8) evening I gathered with the Jesuits of the Faber Community at Boston College as they began a three day retreat before the start of the second semester at the B.C. School of Theology and Ministry. The community is made up of 72 Jesuits from 30 provinces throughout the world, all gathered in Boston for religious formation and graduate studies.
Page 1 of 2