Prayer service honors King's legacy
---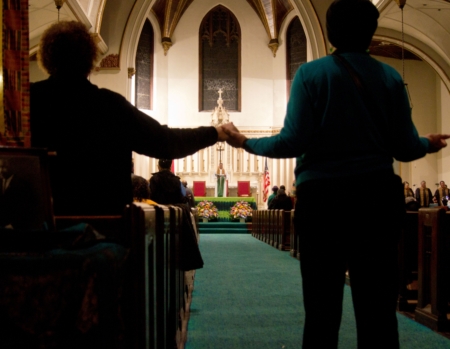 Worshipers join hands during the "Evening of Prayer and Song in Remembrance of Rev. Dr. Martin Luther King, Jr" held at Jan. 15 at St. Katherine Drexel Church in Dorchester. The prayer service, led by Father Oscar Pratt, featured music provided the Archdiocese of Boston Black Catholic Choir. Pilot photo/Christopher S. Pineo
DORCHESTER -- The archdiocese's Office for Black Catholics hosted an event to honor the legacy of Martin Luther King Jr. with an Evening of Prayer and Song at St. Katherine Drexel Church, Jan. 15.
The prayer service featured music provided by the Archdiocese of Boston Black Catholic Choir.
Father Oscar Pratt, parochial vicar at Holy Name in Boston, presided and gave a homily for the prayer service.
In his homily, Father Pratt said people might be tempted to think they had done enough honor to King's legacy by attending the prayer service.
"No. Because if we leave here tonight with everything status quo, if we leave here tonight thinking, 'Thank you God we came, but we'll be going about our business as-is,' then we might as well have stayed home. We might as well have let the man live to an old life, rocking his grandchildren on his knee," Father Pratt said.
The priest instead called the audience to action beyond simply remembering.
"He gave up so much, not so that we could get lazy, but so that we could take up the colors, so that we could take up the flag, so that we could take up the challenge to say, 'It is not over. Yes, there is work to be done. There are people still here to do it,'" Father Pratt said.
The crowd responded with a spontaneous Amen.
"Amen! If two or three can move nations, then let me tell you what all of us can do if we put our minds, our energies, our hearts, and our spirits in front," he said.
The homily also stressed that although God had a concrete role and plan for Martin Luther King, he "wasn't Jesus, Dr. King wasn't the Messiah. But I'll tell you one thing: he knew him."
Father Pratt ended his homily with an unscheduled singing of "We Shall Overcome," which was joined by the choir and assembly.
Pierre Monette Jr., a Boston lawyer, then read King's speech "The Drum Major Instinct."
"It was extremely overwhelming. It was a really overwhelming feeling, because often-times we just hear excerpts of Dr. King's speeches," Monette Jr. said of standing in the shoes of one of the great social-justice leaders of our age.
In the speech read, the words of King addressed the problem of poor people spending beyond their means.
Page 1 of 2