Msgr. Moroney named rector-elect of St. John's Seminary
---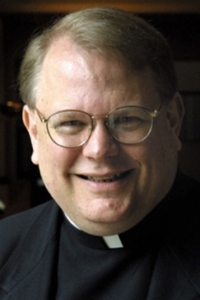 Msgr. James P. Moroney Pilot photo
BRAINTREE -- Cardinal Seán P. O'Malley announced Jan. 18 that Msgr. James P. Moroney will succeed Bishop Arthur L. Kennedy as the twentieth rector of St. John's Seminary in Brighton, effective July 1.

Bishop Kennedy will be leaving St. John's to assume the position of Episcopal Vicar for the New Evangelization.

Ordained in 1980, Msgr. Moroney, has served as a priest of the Diocese of Worcester for the past 32 years. Currently professor of Sacred Liturgy at St. John's Seminary, he also serves as executive secretary of the Vox Clara Committee, an international committee that advises the Vatican on the English translation of the liturgy.

Msgr. Moroney previously served as rector of the Cathedral Church of St. Paul in Worcester, pastor of Mary Queen of the Rosary Parish in Spencer and as executive director of the U.S. Conference of Catholic Bishops' Secretariat for the Liturgy.

"I am very grateful to Cardinal O'Malley for his confidence in me and particularly honored to succeed Bishop Kennedy, who has revitalized and strengthened St. John's Seminary in an extraordinary way over the past five years,'' Msgr. Moroney said.