From Cardinal Seán's blog
---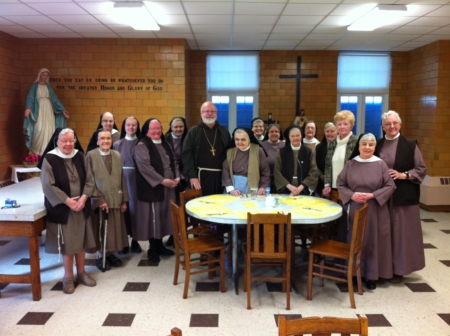 ''This year marks the 800th anniversary of the founding of the Poor Clares by St. Clare of Assisi. So, on Sunday (1/15), I visited with the community of Poor Clares in Jamaica Plain.'' Pilot photo/CardinalSeansBlog.org
Last Friday (1/13), I was visited by Father Kevin Deeley, who is returning after a number of years of service in the Navy. Our chaplains, when they return from the service, bring with them a wealth of experience that enriches our own diocesan life. I am sure Father Deeley will be no exception. He will be helping out in St. Raphael Parish in Medford as Father Kevin Toomey is on sabbatical. We welcome him back to the archdiocese!
Meeting with Mass Catholic Conference
Saturday (1/14) morning, I attended a board meeting of the Massachusetts Catholic Conference. We discussed a number of important issues, including the initiative to legalize physician assisted suicide in Massachusetts. All the bishops are committed to working on an educational program to help Catholics understand what the Church's teachings are on end of life issues and the sacredness of human life. Also, we have committed to work with other groups, such as Massachusetts Citizens for Life and various disabilities organizations, which are likewise opposed to physician assisted suicide. We are very happy that the Massachusetts Medical Society spoke out so strongly against endorsing physician assisted suicide. Another topic we discussed was a new Health Care Proxy, which we recently approved. A health care proxy allows a person to designate someone to make medical decisions on their behalf if they are unable. This is important because it gives people the option not to prolong their life through extraordinary means. There is often a misperception that the Church teaches that life must be prolonged by any means. Sometimes, when people are gravely ill and their time has come, natural death is the desired outcome -- far superior to using drugs to end their life.
St. Andrew's Dinner
Tuesday (1/17), we had over 100 men attend the St. Andrews Dinner that we hosted at St. John's Seminary -- one of the largest we have hosted to date. As I pointed out to the people, last Sunday's Gospel was the one which gave rise to the whole notion of the St. Andrews dinner. It was the one in which John the Baptist points out Jesus to his disciples, saying, "Behold the Lamb of God." One of those disciples was Andrew, who not only followed Jesus, but went and got his brother, Peter, saying "You have to come and meet the Messiah!" Peter went and, of course, he was also called.
Page 1 of 2