In public letter, Cardinal O'Malley urges action on HHS ruling
---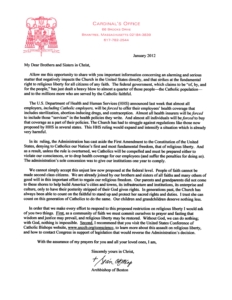 Cardinal Sean P. O'Malley's letter on HHS ruling.
Cardinal Seán P. O'Malley issued a letter to the faithful of the Archdiocese of Boston Jan. 31 urging action on the decision by the U.S. Department of Health and Human Services not to modify a requirement that all health plans in the nation -- including those offered by most Catholic institutions -- provide coverage for contraceptives, sterilization and some abortion-inducing drugs.
The provision of such drugs and services violates Catholic moral principles and, since the regulations were announced last year, U.S. Bishops have been pressing for an expansion of the law's unusually narrow conscience exemptions.
Instead, on Jan. 20 the Obama administration issued a decision saying that Catholic Church employers and others who object to the services on moral grounds would not be exempted from the provision but would instead have an additional year to comply with the health care rule.
"The federal government, which claims to be by, and for the people, has just dealt a heavy blow to almost a quarter of those people-the Catholic population-and to the millions more who are served by the Catholic faithful," the cardinal said in his letter.
"Unless the rule is overturned, we Catholics will be compelled and must be prepared either to violate our consciences, or to drop health coverage for our employees (and suffer the penalties for doing so). The administration's sole concession was to give our institutions one year to comply," he said.
In his letter the cardinal said the ruling is threat to the religious liberty of all Americans and urged Catholics to defend their rights.
"Our parents and grandparents did not come to these shores to help build America's cities and towns, its infrastructure and institutions, its enterprise and culture, only to have their posterity stripped of their God given rights" the cardinal wrote.
"In generations past, the Church has always been able to count on the faithful to stand up and protect her sacred rights and duties. I trust she can count on this generation of Catholics to do the same. Our children and grandchildren deserve nothing less," he continued.
The cardinal concluded urging Catholics commit to "prayer and fasting that wisdom and justice may prevail, and religious liberty may be restored."
He also urged Catholics to visit the U.S Catholic bishops' website on the issue,
www.usccb.org/conscience
. "to learn more about this assault on religious liberty, and how to contact Congress in support of legislation that would reverse the Administration's decision."
Read the full text of Cardinal O'Malley's letter: http://
www.pilotcatholicnews.com/upload/HHS_RULING.pdf