From Cardinal Seán's blog
---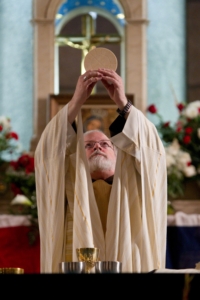 '...Monday (1/23), I had Mass for about 500 pilgrims from Boston, who accompanied us on the pilgrimage. This Mass was at Sacred Heart on 16th Street, the parish where I celebrated the Haitian and Spanish Mass for many years while I was in Washington.' Pilot photo/CardinalSeansBlog.org
On Friday (1/20), I celebrated the funeral Mass of Sister Manuela Vencela at St. Anthony's Church, near Catholic University. Auxiliary Bishop Francisco Gonzalez was there along with many priests, religious and lay people who had known sister during the nearly four decades she had worked with the Hispanic community. I celebrated the Mass and preached. It was an honor to be able to do that for such a great religious, a real apostle to the people.
Meeting with St. James Society
That evening, I was back in Boston for the annual meeting of the St. James Society. Father Kevin Hayes made his last report to us as director of the society. We are very grateful to him for the excellent work he did as director and we look forward to the arrival of the new director in the spring, Father David Costello from the Diocese of Limerick. During the meeting, we were happy to hear reports of the wonderful work that is taking place through the St. James Society and the extraordinary support the Catholics in the archdiocese are giving to that ministry.
Mass at the National Shrine of the Immaculate Conception
The following day (1/22), we traveled back to Washington for the March for Life, what we call in Boston "The Pilgrimage for Life." That evening, I concelebrated the Mass to begin the National Prayer Vigil for Life at the Basilica of the National Shrine of the Immaculate Conception. As always, the basilica was packed wall-to-wall with people. Many thousands of people were present, and many thousands of others were able to watch on television. The procession of seminarians, priests and bishops took over half an hour to enter the church. Cardinal DiNardo presided at the Mass and delivered a beautiful homily. This is always a very important event, the beginning of a night of prayer. Seminarians and others have different hours assigned to them for prayer and adoration in the crypt of the Basilica throughout the night leading up to the March.
Visit to Blessed Pope John Paul II Seminary
Page 1 of 2