Hyde Park pastor proclaimed chief for work in Nigeria
---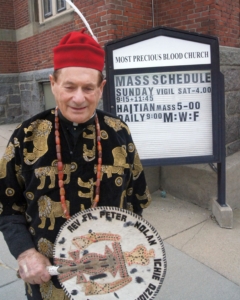 Father Peter Nolan, CSSp, pastor of Most Precious Blood in Hyde Park, wears traditional clothing and holds the ceremonial wand given to him when elders made him a chief in the town of Nimo, Nigeria last December for his work there in the 1960s. Pilot photo/Christopher S. Pineo
BOSTON -- In the darkness of a war that would claim an estimated three million lives, one Catholic priest kept the light of Christ burning in a parish through war-torn years in Nigeria.

The pastor of Most Precious Blood in Hyde Park Father Peter Nolan, CSSp, visited the Parish of the Assumption in Nimo, Nigeria, where from 1961 to 1969, over the course of two four-year stays, he helped build and sustain the parish even through the worst possible circumstances.

"The presence of God for some reason in the midst of suffering was greater than ever," Father Nolan said, recalling his work as a missionary.

In recognition of the accomplishments of his ministry there 50 years ago, elders and tribal leaders made Father Nolan an honorary chief of the Ibo tribe at a ceremony on Dec. 31 celebrating the 100th anniversary of the arrival of the first missionaries in the town of Nimo.

"I was overwhelmed with the way I was received. It was very touching," Father Nolan said.

After being installed as a chief of the town, under the name Ichie Ozioma I of Nimo, which translates "elder of the Gospel message" with the "I" meaning "the first," elders brought him through the town so each household could present him with a traditional chicken and yam, given whenever a person becomes a chief.

"A live chicken, cluck-cluck," Father Nolan noted.