Obituary: Father Robert McAuliffe, one time pastor in Lynnfield and Methuen
---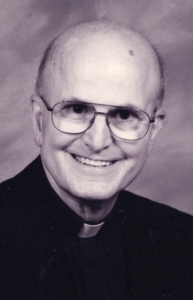 Father Robert J. McAuliffe Pilot file photo
Father Robert J. McAuliffe died on Feb. 4 at St. Patrick Manor, Framingham where he had been living for several months. Born in Boston on March 9, 1928 and raised in Malden he was a son of the late John and Amelia (Rose) McAuliffe and also a son of Immaculate Conception Parish there. Following his graduation from Malden Catholic High School he enlisted in the United States Navy in years immediately following the Second World War.
On his return home he entered Boston College from which he would graduate in the class of 1952 with a B.S. degree, majoring in mathematics. Father Kevin Toomey, pastor of St. Raphael Parish in Medford where Father McAuliffe frequently assisted in his retirement years, and who is currently on sabbatical in Rome, recalled a remark by Father McAuliffe "My four years at Boston College were the happiest of my life." Father Toomey went on to say "I think he liked coming here because I have Jesuits assisting here and it connected him again to BC."
Archbishop Richard Cushing ordained him to the priesthood at Holy Cross Cathedral on Feb. 2, 1957 and assigned him as an assistant at Our Lady Comforter of the Afflicted Parish in Waltham. Several more assignments as an assistant would follow: St. Mary, Wrentham (1962-1966); Sacred Heart, East Boston where he served under legendary Msgr. Lawrence Basil Killian from 1966-1969; then for a one year stint at Our Lady of the Lake in Halifax. In 1970 he was assigned, again as an assistant, to St. Lawrence Parish, Brookline, and in 1975 as an assistant at Our Lady of the Presentation Parish, Brighton with a part-time appointment to the faculty of St. Sebastian School, then located in Newton.
Humberto Cardinal Medeiros named him pastor of Our Lady of the Assumption Parish in Lynnfield on July 8, 1980, and additionally vicar forane in the Salem Vicariate on June 1, 1981. Father Richard Mehm, presently pastor of Father McAuliffe's home parish and once his parochial vicar at Lynnfield recalled "Bob's favorite line was 'get the little things in line and big things fall into place.'" The parish ran smoothly and Father McAuliffe's tough veneer showed itself to be precisely that, a veneer. Father Kevin O'Leary, rector of the metropolitan Cathedral of the Holy Cross, also a former parochial vicar, said "Bob kept the place in great shape -- spiritually, physically and fiscally. The people really appreciated his gifts."
In 1990 Cardinal Bernard Law named him pastor of St. Monica Parish in Methuen. Just as he had had at Lynnfield so also at Methuen he had a big plant, a school filled to capacity and Mass attendance that could barely be contained in the church.
He retired as pastor in April 1997 and lived in residence for the next seven years at St. James the Apostle rectory in Arlington, assisting in that and other area parishes. Father James O'Leary of neighboring St. Camillus Parish said "Bob used to come to help out especially during the week. He and (Father) Ken McAskill, who also died recently, were like members of this parish."
Page 1 of 2