From Cardinal Seán's blog
---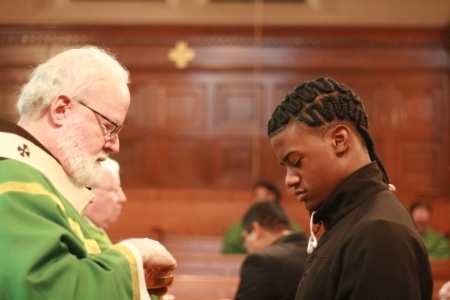 'This week, I attended many different meetings, but the crucial activities of the week revolved around our annual vocation retreats. We had 60 men this year between the retreats at Blessed John XXIII National Seminary and St. John's Seminary.' Pilot photo/CardinalSeansBlog.org
We continue to pray for the successful resolution to the question of whether Catholic institutions will be required to provide coverage for morally objectionable services through their health plans. Obviously, the Catholic Church is very concerned about the issue of religious liberty and the interior life of the Church. We hope this crisis will give us the opportunity, through dialogue, to clarify what the rights of religious people are in United States so that we will be able to strengthen religious freedom, which is the bedrock of our democracy.
This country is founded on the principle of religious freedom and it is very heartening to see that so many people from a broad spectrum of political thought have come to see this as a very significant moment, one that demands the attention of the American people.
Vocation Retreat
This week, I attended many different meetings, but the crucial activities of the week revolved around our annual vocation retreats.
We had 60 men this year between the retreats at Blessed John XXIII National Seminary and St. John's Seminary. Many of these were college students and recent college graduates who have an interest in discerning a priestly vocation. I always give the retreat conferences and then we have a discussion in which the retreatants can speak with seminarians and hear their experiences.
Realizing that young people do not often receive a lot of encouragement when considering a vocation to the priesthood, in my talk I tried to assure them that many people from the community are praying for them and that their interior life, their participation in the community of faith and fidelity to spiritual direction and prayer are all important elements in the process of discernment. I encouraged those who are so inclined, to visit the seminary, which has an excellent menu for deepening one's relationship with the Lord and discovering what God's will is in our life. This, of course, needs to be the focus of any vocational discernment. We must discern not what we want to do, but what God is asking us to do.
Page 1 of 2