Local baker serves up recipe for better Lenten fast
---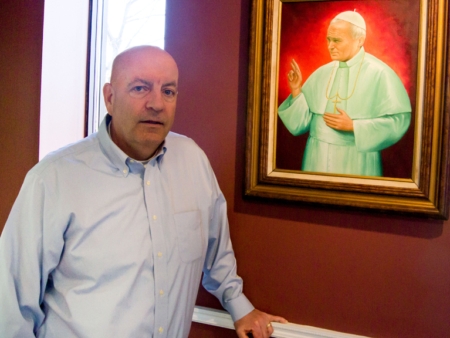 Andy LaVallee of LaVallee's Bakery Distributors' in Waltham says his faith has always guided him in his business. Now, LaVallee is giving away special fasting breads for Lent. Pilot photo/Christopher S. Pineo
WALTHAM -- Some believe that a diet of bread and water yields the purest fast. However, one local baker says choosing the wrong bread can actually make the traditional Lenten practice harder and he has a recipe for a solution.
At LaVallee's Bakery Distributors' offices in Waltham and at St. Clements Eucharistic Shrine in Boston, local Catholics fasting for Lent stopped by and picked up a complimentary fasting bread kit on Feb. 20 for the bakery's Live the Fast Challenge.
LaVallee's also opened for the public on Feb. 21 in the afternoon and on the morning of Ash Wednesday, Feb. 22, providing the kits -- containing bread and literature on fasting -- for free, to encourage people to sustain their fast with bread made from natural ingredients.
"If you walk down the supermarket aisle, or you walked into many of the bakery departments of these stores and you grabbed bread, you know 90 percent of those breads are going to have preservatives, additives, and dough-conditioners that are going to help you defeat the fast, not encourage the fast," Andy LaVallee, the founder and owner of LaVallee's, told The Pilot.
LaVallee said the breads with additives can actually cause a person to feel more hungry.
LaVallee said his Catholic faith has guided and influenced his decisions since he started his business in 1977 and after fasting with other pilgrims on a 2010 trip to Medjugorje, providing local Catholics with bread to fast at Lent seemed necessary and obvious to LaVallee. There the local people produced special breads to help pilgrims with their fasts.
"Being in the bakery business and being a devout Catholic it was a layup," said LaVallee, making a sports analogy to demonstrate seeing an opportunity to live his faith still further through his business.
Inspired by his experiences overseas, LaVallee sought out further learning about fasting with bread and water to help him bring the opportunity for a healthy fast home to the United States.
"We as leaders in the United States lead the world, and if we are not going to lead the world through our faith, then we will never be able to do what Our Lady and Our Lord want us to do," LaVallee said.
Before his trip to Medjugorje, LaVallee said he hadn't taken fasting very seriously.
"I really never fasted before in my life. It was just like, for Lent I'll just give up on pizza, and you know give up some chocolate, and maybe not have a beer at my buddy's, or something like that," he said.
Through pilgrimages and learning about the significance of fasting for the people in the Gospel, Church leaders, and people he knew personally, LaVallee changed his thoughts on practicing his faith during the season of Lent.
"Now it is a total elevation of focus," he said.
With this change in thought, LaVallee also undertook a change in action.
LaVallee had been in the business for nearly 35 years when he returned to Medjugorje in 2011, and spoke with Sister Emmanuel Maillard, an authority on fasting and author of the "Healing and Liberation through Fasting," which he included in some of the fasting kits.
When LaVallee asked Sister Emmanuel what makes a good fasting bread, she told him it must be made with all-natural, untreated, unbleached-flour and contain no preservatives and no additives.
LaVallee realized that, among the dozens of variety of breads his company produces, he already had breads that met these criteria.
Page 1 of 2