2012 Catholic Appeal launches this weekend
---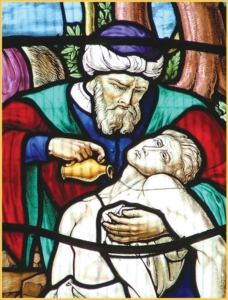 Pilot photo courtesy/2012 Catholic Appeal
BOSTON -- The Archdiocese of Boston will launch the 2012 Annual Appeal at churches throughout the archdiocese March 3 and 4.

Cardinal Seán P. O'Malley will launch the appeal in person at an afternoon Mass Saturday at Holy Family Parish in Amesbury, and a morning Mass Sunday at Sacred Heart Parish in Middleborough.

Vicar General Msgr. Robert Deeley will also launch the appeal at Saturday and Sunday Masses at St. Eulalia Parish in Winchester, St. Brigid Parish in Lexington, and Sacred Heart Parish in Cambridge.

Those attending Mass elsewhere in the archdiocese will have a pre-recorded homily from Cardinal O'Malley launching the "The Good Samaritan is you" themed appeal.

The vicar general said the cardinal's homily will be presented in all churches in the archdiocese.

"The primary notion of the appeal is that it is the financial foundation of the possibility of any ministry in the archdiocese," Msgr. Deeley said.

More than half of the income of the archdiocese comes from the appeal each year. The remainder is funded by other philanthropic sources as well as by fees for various services, programs and resources provided by the archdiocese's central ministries.