500 prepare to enter Church at Rite of Election
---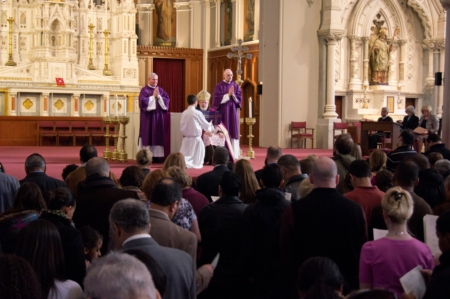 Cardinal Seán P. O'Malley questions catechumens on their preparations for baptism during the Rite of the Election Feb. 26. Pilot photo/Christopher S. Pineo
SOUTH END -- Nearly 500 people preparing to enter the Church this Easter, their families and friends gathered at the Cathedral of the Holy Cross, Feb. 26 for the Rite of Election and Call to Continuing Conversion.

Due to the large number of people, the different regions of the archdiocese were divided into two ceremonies, one at 1:30 p.m. and the other at 4:00 p.m.

At both ceremonies, catechumens -- those who have never been baptized -- participated in the Rite of Election, and candidates -- those who are Christian but not Catholic -- participated in the Call to Continuing Conversion.

"These men and women, and some children, come to the cathedral from all throughout the Archdiocese of Boston and they are received by the Church in the person of our local shepherd, Cardinal Seán O'Malley. The cardinal, speaking on behalf of all Catholics and of the Church universal welcomes them into the Church," director of the Office of Worship Father Jonathan Gaspar told The Pilot after the events.

Reflecting the diversity of the assembly, the service's first reading was proclaimed in Spanish, while the Gospel was proclaimed in English.

In his homily Cardinal O'Malley touched upon the universality of the Church, referencing the first reading.