Catholic Charities South dedicates new facility
---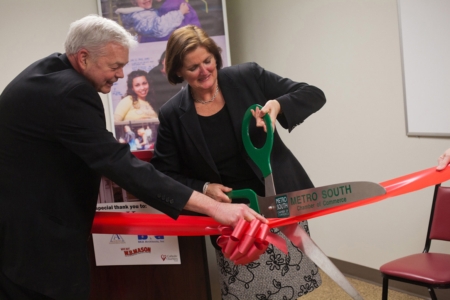 South Region Bishop John A. Dooher holds the ribbon for Catholic Charities president Deborah Rambo during the March 1 grand opening and ribbon cutting ceremony of Catholic Charities South's new location at 169 Court Street in Brockton. Pilot photo/Courtesy Catholic Charities
BROCKTON -- Civic and Church leaders were on hand to celebrate the ribbon cutting at Catholic Charities South's new location on March 1.
President of Catholic Charities Deborah Rambo, Mayor of Brockton Linda Balzotti, and auxiliary Bishop John Dooher welcomed guests to the ceremony at the new facility on Court Street in Brockton.
"We know that our communities, our families, our friends, and our neighbors continue to struggle in this challenging economy, and that there is still much work to do as we help to create new opportunities for those who have come to rely on us for support. Our new home is another positive step along the way, a safe and welcoming place for all to come," Rambo said, in welcoming guests.
"Most importantly, today I want to thank our staff and volunteers here at Catholic Charities South who put their hearts and souls into the work we are called to do, each and every day -- each making a real difference in the lives of our neighbors in need," she said, before inviting guests to tour the facility after the ceremony.
"This space was designed to fit program needs, not the other way around. This is the first time we will be able to house all of our services under one roof," Rambo said.
The programs offered in Brockton, and at other Catholic Charities locations, address the needs of the local community on multiple levels.
At the new Brockton location, Catholic Charities provides assistance to people in need through a program to provide basic necessities, youth mentoring programs, job training programs, adult education English classes, a support program for parents, and an outreach program for the elderly.
"There is so much to be excited about here. On a typical day this office is bustling with clients and staff," she said.
A set of programs offered by Catholic Charities South address the diversity of the local population specifically by providing English language training to help people get jobs, communicate with others, and develop personal autonomy according to Boston Catholic Charities' website.
"Brockton in particular has a fairly large newcomer population, so there are a lot of folks who need to learn how to speak English, who are certainly very capable, and just need a little extra help to get jobs," Rambo said.
Staff and volunteers pointed to the training course as the only one in the state helping people who need language skills and need to find jobs through a single program.
One of the programs at the Brockton location, Peers as Lasting Support (PALS) provides young people a mentoring relationship with an adult to help position themselves for more life opportunities through working with a role model.
In addition, the Brockton location food pantry uniquely goes beyond the approach of other food pantries by giving visitors a variety of goods and brands to choose from rather than a standardized bag of groceries.
Staff and volunteers said this helps people address the dietary needs of their own families according to their own choices.
Many food pantries just provide visitors with certain items packed together beforehand.
Rambo said services such as these, and a service that helps adults learn parenting skills, promote the social values of the Catholic Church.
"We are about family. We are about making sure, and helping moms and dads take good care of their children and raise wonderful families. From our perspective it fits in wonderfully with our Catholic mission of supporting not just Catholics, but everybody," Rambo said.
Annually serving more than 24,000 children, adults and families from more than 30 cities and towns, Catholic Charities South continues a 90-year tradition of charity work in the community of Brockton.
Brockton stands to benefit from Catholic Charities' work within the community according to Balzotti.
Page 1 of 2