Catholic Girl Scouts celebrate 100 years of scouting at cathedral
---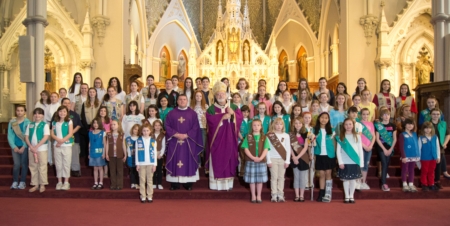 Cardinal Seán P. O'Malley and archdiocesan Scout Chaplain Father Matt Westcott pose with Girl Scouts from the Archdiocese of Boston, after a Mass celebrating 100 years of scouting, March 18. Pilot photo/Christopher Pineo
SOUTH END -- In honor of 100 years of tradition nationally, Girl Scouts and their leaders came to the Cathedral of the Holy Cross to celebrate Mass with Cardinal Seán P. O'Malley on March 8.
Troops from around the archdiocese wore uniforms at the Mass. Joined by their parents, scout leaders and the celebrants, the scouts observed their local Catholic heritage at the cathedral.
"It is a wonderful privilege to be here in the cathedral, the seat of this archdiocese, so filled with history, marking their own history of 100 years in the Girl Scout movement," said Medals Councilor of Holy Family Parish in Concord Jane Torpie.
The cardinal spoke about the connection between scouting and the Church in his homily.
"In our life all of us have a very special vocation. The Lord is calling us to service in a special way. Scouting is about service and how we can serve a community, but each of us has a very special calling. We discern that in prayer, trying to see what God is calling us to do as individuals. But, all of us share in a mission that together we have to build a civilization of love to make God's Kingdom more visible and to help people to discover how much God loves them," the cardinal said.
Director for Divine Worship Father Jonathan Gaspar explained how scouting helps connect Catholic girls with their faith in the archdiocese, after the Mass.
"It is a wonderful thing to be able to see young men and women, boys and girls engaging in their faith and seeing how as Catholic Christians they can put their faith into concrete action. The scouts help them to make those types of connections between what they believe and how they act in this world. We are grateful for the leadership of the scouts in the archdiocese and very encouraged by the witness of these young people," Father Gaspar said.
"Our future as a Church will be enriched by their participation," he said.
Scouts participate in their faith by working to receive medals representing understanding of the scout's own religious tradition within a track of medals.
While girls of any religion can pursue the track, the medals honor understanding teachings of the scout's individual religion.
The four core Catholic medals include the "Family of God," "I Live My Faith," "Marian Medal," and "The Spirit Alive."
The "Family of God" plan provides a bilingual activity series that complements the catechetical efforts of the parish and families for girls in the second and third grades, according to the National Catholic Committee for Girl Scouts U.S.A and Camp Fire U.S.A's (NCCGSCF) website.
Through the "I Live My Faith" program, NCCGSCF helps Girl Scouts in grades 4 through 6 appreciate more deeply the place that God and religion occupy in their daily life, according to their website. Activities in the program focus on a scout developing awareness of "her potential as a growing person, friend, family member, citizen, and a participant in the community of faith."
Page 1 of 2