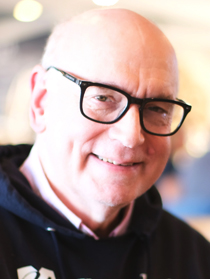 Strong and silent
---
If only we could be virtuous like St. Joseph! On March 19 we celebrated the feast of the man from Nazareth who was spouse of the Blessed Virgin Mary and legal father of Jesus, as we will celebrate the feast of St. Joseph the Worker on May 1, a/k/a May Day. Through these two feasts, we remember his critical role in lovingly anchoring the Holy Family and in tirelessly working to support them as a carpenter. After all, family and work are two of the central human realities that define us and provide the matrix of our vocation to holiness.
For Joseph was chosen by God to be the spouse of Jesus' Mother and therefore the foster-father of Jesus. He is considered the greatest saint after Mary, the Theotokos (Mother of God). The odd thing, of course, is that he is only mentioned a few times in the two gospels that recount the Infancy Narratives, Matthew and Luke; and he is never quoted as saying anything. In effect, he is silent. Even in his last Gospel appearance, when the twelve-year-old Jesus is found in the Temple after three days, Mary is the one to ask, "Son, why have you done this to us? Your father and I have been looking for you with great anxiety." It is Mary, the biological mother of Jesus, who speaks; but not Joseph, his adoptive father. He comes across as the strong, silent type.
It is not the only time. He first appears in the gospels in the opening chapter of Matthew's infancy narrative, where he is called "a righteous man," who decides to break his engagement to Mary because she is pregnant. He resolves to do so "quietly": he was "unwilling to expose her to shame." Joseph again keeps silent when faced with a mystery he does not fully understand.
The truth comes out in a dream, as it will several times for Joseph. He was a "dreamer," as was his predecessor Joseph of the old Testament. In the dream, an angel appears to him and says to take Mary as his wife into his home, because it is through the Holy Spirit that the child was conceived. "When Joseph awoke, he did as the angel of the Lord had commanded him."
Page 1 of 2