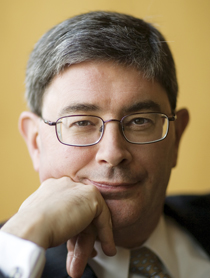 Cardinal Dolan and the new evangelization
---
The irrepressibly effervescent personality of Cardinal Timothy Dolan may tempt some to think of the archbishop of New York and president of the U.S. Conference of Catholic Bishops as the latest in a line of glad-handing Irish-American prelates, long on blarney and short on depth. Succumbing to that temptation would be a very serious mistake. For Cardinal Dolan is a man of formidable intelligence, a historian trained in the school of the late John Tracy Ellis, dean of the classic historians of Catholicism in the United States.
That historian's-eye view of the contemporary scene and its antecedents in the immediate past, linked to a deep insight into the meaning of Vatican II and the pontificates of John Paul II and Benedict XVI, produced a remarkable speech to the College of Cardinals on Feb. 17, the day before Dolan received his red hat. Like everything else Cardinal Dolan does, his speech that day was delivered with brio, and it was that bubbling energy that got most of the press attention. Yet Dolan's key proposal--that the Church is entering a new phase of its history--was a bold one, and may set the terms of discussion for the Church of the future:
"As John Paul II taught in 'Redemptoris Missio,' the Church does not 'have a mission,' as if 'mission' were one of many things the Church does.
"No, the Church is a mission, and each us of who names Jesus as Lord and Savior should measure ourselves by our mission-effectiveness. Over the 50 years since the convocation of the Council, we have seen the Church pass through the last stages of the Counter-Reformation and rediscover itself as a missionary enterprise. In some venues, this has meant a new discovery of the Gospel. In once-catechized lands, it has meant a re-evangelization that sets out from the shallow waters of institutional maintenance, and as John Paul II instructed us in 'Novo Millennio Ineunte,' puts out 'into the deep' for a catch. In many of the countries represented in this college, the ambient public culture once transmitted the Gospel, but does so no more. In those circumstances, the proclamation of the Gospel--the deliberate invitation to enter into friendship with the Lord Jesus--must be at the very center of the Catholic life of all of our people. But in all circumstances, the Second Vatican Council and the two great popes who have given it an authoritative interpretation are calling us to call our people to think of themselves as missionaries and evangelists."
Page 1 of 2