Palliative care alternative to physician-assisted suicide, speaker says
---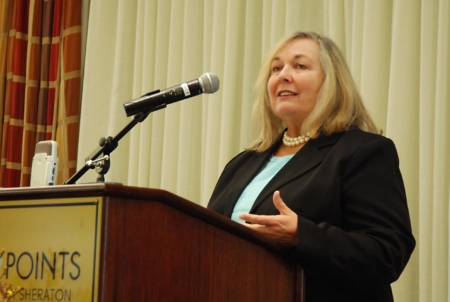 M.C. Sullivan, who is a nurse, bioethicist, attorney and Director of Ethics at Covenant Health Systems in Tewksbury, delivers her address to the annual Women Affirming Life spring breakfast, March 10 at the Four Points Sheraton in Norwood. Pilot photo/ Courtesy Sister Mary Emmanuel, FSP
NORWOOD -- Determined to battle the latest threat to life in Massachusetts, pro-life women gathered to educate themselves about the proposal to legalize physician-assisted suicide. A petition initiative will likely allow voters in the commonwealth to determine the issue in November.
The annual (WALI) Women Affirming Life spring breakfast, held March 10 at the Four Points Sheraton in Norwood, featured speaker M.C. Sullivan -- a nurse, bioethicist, attorney and Director of Ethics at Covenant Health Systems in Tewksbury. WALI is an outreach of the Archdiocese of Boston's Pro-Life Office.
Sullivan said the answer to doctor prescribed death is palliative care. Palliative medicine addresses all aspects of the patient, including their physical, emotional, spiritual and social needs. It requires the cooperation of physicians, pharmacists, nurses, chaplains, social workers, psychologists and other health care professionals. The approach can differ greatly depending on the individual patient.
Palliative care differs from hospice care, which focuses strictly on the end of life, in that it can be used for patients with either a chronic or terminal illnesses. It is not antithetical to curative care but is usually invoked when curative treatments are no longer working. Because it leans less on technology, palliative care is often cost-saving. More importantly, it tends to improve the patient's quality of life.
"The real gift of palliative care is the peace that comes to the patients who receive it," Sullivan said.
The suffering of the patient is more than just corporeal. It includes pain of the mind and spirit. The terminally ill are often afraid of death and facing separation from everyone and everything they hold dear. They may already be in mourning over the impending loss of their earthly relationships, she said.
"It's an exhausting time for them, not just dealing with the illness but dealing with life around it," she said, adding that there are "sources of suffering that pain pills will never reach."
She added that palliative care brings peace to their families and circle of friends and empowers the patient to "wrap up" his or her life.
In testimony submitted at a March 6 statehouse hearing about the physician-assisted suicide proposal, the four bishops of Massachusetts say that the dying should be able to devote themselves to the unfinished business of their lives. Their last days should be spent making peace with God, their loved ones and themselves.
"No one should dismiss this time as meaningless," they say.
Page 1 of 2