From Cardinal Seán's blog
---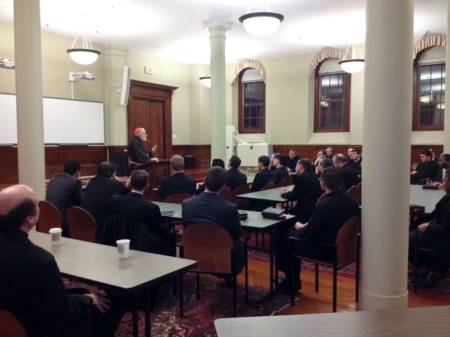 'That evening (3/16) I met with the seminarians at St. John's Seminary for evening prayer, a holy hour and dinner.' Pilot photo/CardinalSeansBlog.org
Last Thursday (3/15) afternoon, I was visited by Christopher Gosselin, who was a youth minister in the archdiocese and is now a campus minister at Salve Regina University in Newport. He brought a group of students to do service projects here in the archdiocese, particularly the homeless and others. He brought them to meet with me at the cathedral and have them talk a little bit about their experience and their faith. We had a nice conversation with them and they gave me a beautiful paperweight with the Salve Regina prayer in Latin. After our meeting, they had a chance to take a tour of the cathedral.
Visit to St. John's Seminary
That evening (3/16) I met with the seminarians at St. John's Seminary for evening prayer, a holy hour and dinner. Then, after dinner, I had a time of dialogue with them. I also used the opportunity to speak to them about the HHS regulations and the issue of physician assisted suicide. Then, since it was a Friday night, I led them in the Stations of the Cross.
Charitable Irish Society Banquet
That evening (3/17), I was invited to give the invocation at the banquet held at the Fairmont Copley Hotel to mark the 275th anniversary of the Charitable Irish Society -- one of the oldest Irish organizations in the United States. It was founded in Colonial Boston in 1737 and remains an active organization promoting immigrants' rights and helping immigrants. During the time of the famine they were very involved in sending aid to Ireland. Most people do not realize that, in the colonial times, many of the people who came from Ireland were actually Presbyterian Scotch-Irish; they were "Orangemen," as we call them. They were the founders of this organization, which was founded by King George and, during colonial times, there were members who were both patriots and loyalists to the crown. After the Revolution, they admitted Catholics. (60 years before the Irish got the vote in Boston they were allowed to join the Irish Charitable Society.) So, they have an interesting history of bringing together people who ordinarily would have been "on the other side of the aisle," so to speak. However, I observed that the Orangemen probably made a mistake in letting the Catholics in because we seem to have taken over!
Page 1 of 2