Catechetical Congress hosts hundreds of area faithful
---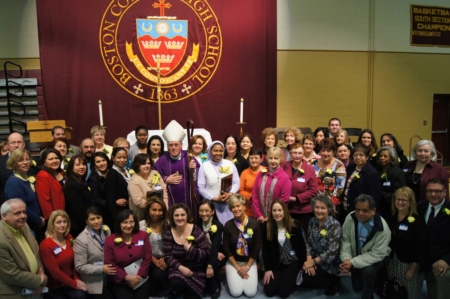 Bishop Richard Malone, ThD, poses for a photo with recipients of the 2012 Catechist Recognition Award and the Sister Marion O'Connor, RC, Award for Excellence in Catechetical Leadership. Pilot photo/Christopher S. Pineo
DORCHESTER -- Teachers of children and adults came from around the Archdiocese of Boston to pray, listen, and share ideas for teaching the Gospel at the Annual Archdiocesan Catechetical Congress at Boston College High School, March 24.

Organizers said roughly 1,000 people participated -- including more than 800 registered guests joined by priests, religious, and presenters -- as the archdiocese presented keynote speakers, workshops, and displays from religious, faith-based, and Catholic educational groups and individuals at the event.

"Catechesis comes from the Greek word which means to echo. What we are echoing is the good news, the Gospel message, the message of Jesus Christ," the director of the Office of Religious Education Susan Abbott said.

"Those who catechize echo; it is a systematic instruction in the faith," she said.

Organizers themed the catechetical congress "Do This in Memory of Me," in keeping with the theme set by the USCCB on Catechetical Sunday this past September.

The Saturday event began with a multi-lingual Mass celebrated in Spanish and English, followed by the presentation of the 2012 Catechist Recognition Award. Bishop Richard Malone of Portland, Maine celebrated Mass with Father J. Bryan Hehir, who gave the homily. The Archdiocesan Black Catholic Choir sang hymns in English and Spanish.