Cuba hosts pope, and Boston locals
---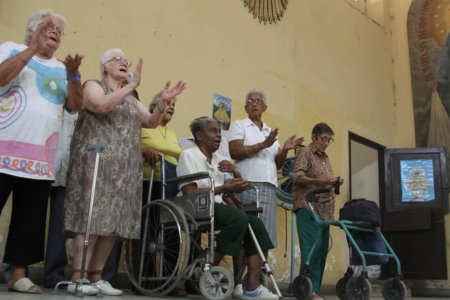 Senior citizens from the Casa de Abuelos senior center in Havana treat Boston visitors to traditional Cuban songs, March 26. Pilot photo/Gregory L. Tracy
Donis Tracy, Pilot Correspondent, writes from Cuba where she travelled together with a delegation of Friends of Caritas Cubana, a non-profit organization that works to enhance the capacity of Caritas Cubana, the island's equivalent of Catholic Charities, in anticipation of Pope Benedict's March 26 visit to the country. The following is her account of the first two days of their trip in the city of Havana, as it prepared to welcome the pope. Look for more coverage of their journey in next week's Pilot.

HAVANA -- In anticipation of Pope Benedict XVI's visit to Havana, a delegation of Friends of Caritas Cubana embarked on a five-day journey March 25, to experience firsthand how Cubans live, and what the Church is doing to help make their lives better.

"Be prepared because in Cuba things always seem to go a little wrong before they go very right," warned Michael Eizenberg, founder of Educational Travel Alliances (ETA), in an email sent to those participating on the trip. Eizenburg, together with fellow ETA founder Kathy Rice, arranged and led the culturally enriching pilgrimage.

The warning couldn't have been more correct.

Beginning in Miami International Airport, where the computers crashed and could not print out anyone's boarding pass for close to two hours, the trip began a bit rocky.