Hancock Financial presents $1 million to the Campaign for Catholic Schools
---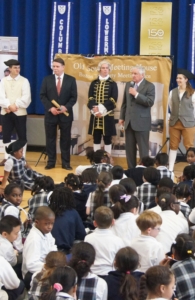 President of John Hancock Financial Jim Boyle and chairman of the Campaign for Catholic Schools Jack Connors join actors of The Freedom Trail Foundation at Pope John Paul II Catholic Academy for a historical presentation on local events of the American Revolution for grade-school students, March 26. Pilot photo/Christopher S. Pineo
DORCHESTER -- John Hancock Financial presented the Campaign for Catholic Schools with a check for $1 million at Pope John Paul II Catholic Academy in Dorchester, on March 26, and a visit from the founding father with the most popular signature in American history.

The financial gift will be given to the school over the next five years, continuing the company's support of Catholic schools in the Archdiocese of Boston. It will support literacy programs for English and non-language learners and recruitment programs to improve faculty diversity.

President of John Hancock Financial Jim Boyle said his company is bolstered by the high-quality education provided in the local educational system, so supporting Catholic schools is a natural fit.

Boyle pointed to the students of such schools as future leaders.

"For us to be able to give back to this community, and see the future leaders, invest in the future leaders that can allow us to provide financial security to Americans is incredibly important," he said.

Dr. Mary Grassa O'Neill, secretary of the Catholic School Office, said the money will go to good use in construction and restoration projects at schools in the archdiocese.

She said John Hancock Financial coordinated with the Campaign for Catholic Schools and made the donation as a commitment on a local level.