Cuba Special Report: Caritas Cubana works to help Cuba's most needy
---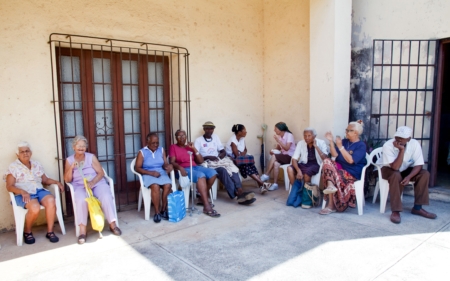 Seniors wait outside the Caritas Cubana meal center at St. Agustin Church. "Sometimes [the people who come here] are a bit desperate because they only eat what they eat here," program director Mercedes Hernandez-Valdez said. Pilot photo/Gregory L. Tracy
HAVANA -- Mercedes Hernandez-Valdez is a woman on a mission -- a mission to feed the aging people in San Agustin, the parish she has worshipped at her entire life.

For the past eight years, Hernandez-Valdez, 68, has been the director of a Caritas Cubana meal center run out of her parish's small basement kitchen. Together with a team of parish volunteers, she makes sure that 100 seniors are given a warm, nutritious meal every day. Those who are ambulatory, roughly 24 of them, eat at the parish refectory; the remainder have their food brought to their homes.

"Sometimes [the people who come here] are a bit desperate because they only eat what they eat here," she said.

And feeding those who come to the meal center can be a challenge. The parish's kitchen facility is ailing. One of the two stoves is unusable; the refrigerator doesn't function; the pots and pans used to cook are pitted and chipped; food costs are on the rise and shortages often occur.

"But still here we are," she said.

Hernandez-Valdez dreams of a time when parish services can expand.

"Our aspiration is that this can be a day center -- where they can stay here all day long," she said. "But that would require us to rebuild our facility," something that there is no money for.

In addition to the meal center, San Agustin also runs a school for continuing studies, which holds classes on topics such as marketing, computers and foreign languages.