Cuba Special Report: Boston-based group supports Church's charitable works in Cuba
---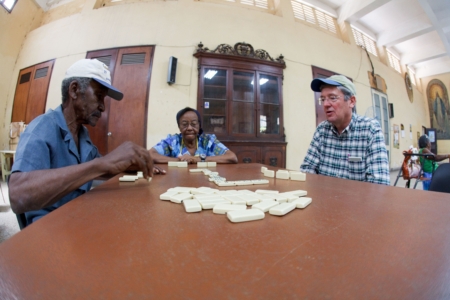 Friends of Caritas Cubana board member John Hickey joins residents for a game of dominoes at the Casa de Abuelos senior program at La Merced Church in Havana. Pilot photo/Gregory L. Tracy
HAVANA -- Observers have long noted the myriad of blessings that have sprung following Pope John Paul II's historic visit to Cuba in 1998. In the wake of that historic papal visit, Catholicism was allowed to be practiced openly and Christmas was observed for the first time in almost 40 years.
One of the lesser known fruits of the 1998 papal visit is Friends of Caritas Cubana, a Boston-based organization that collects funds and materials to further the work done by the Church's aid organization in Cuba, Caritas Cubana.
Friends of Caritas Cubana is the brainchild of Micho Spring, a Cuban-American who emigrated from Havana in 1960.
Spring was one of 200 Boston-area Catholics who travelled to Havana to witness Pope John Paul II's historic Mass in Havana's Revolution Square.
"Being there at the Mass, I knew I had to do something," Spring said.
Back in Boston, she set to work. By 1999, Friends of Caritas Cubana had begun to take shape. Its mission: to raise money to "support Cardinal [Jaime] Ortega's efforts," she said.
Originally, Friends of Caritas Cubana was a committee of Catholic Charities of the Archdiocese of Boston. After six years, in 2005, they became a separately incorporated entity, and remains so today.
"Our goal is to connect the vast resources Boston has to rebuild the civil society of Cuba," said Spring, who is the chair of the board. Spring also noted that the organization has "always been greatly supported by the cardinals of Boston."
According to Spring, the organization's success is largely due to its president, Consuelo Isaacson.
"Consuelo is the soul of this effort," she said. "She has devoted her life to this cause."
Isaacson, Spring and a 15-person board of volunteers raise money throughout the year, particularly during its annual fundraisers. This past year, Friends of Caritas Cubana held fundraisers in Cambridge, Miami, New York and San Juan.
"We have no overhead," Spring explained. "We only incur the cost of the fundraising events. Everything else goes to Caritas."
Spring cited the donations made by Sara Campbell, a Boston based fashion designer, who donates all her excess materials to Friends of Caritas Cubana "to give to the women in Cuba who make crafts to sell in order to survive."
Page 1 of 2