Cuba Special Report: For agency, travel is mission
---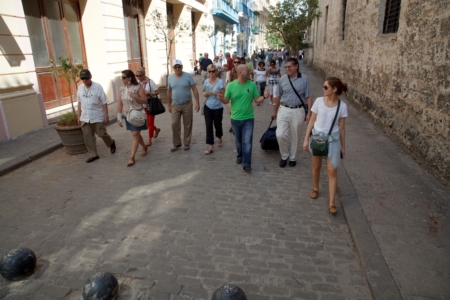 Boston pilgrims enjoy a walking tour of Old Havana. Pilot photo/Gregory L. Tracy
HAVANA -- Michael Eizenberg is a man in love...with Cuba.
For the past 15 years, Eizenberg, through Educational Travel Alliances (ETA),the company he and co-worker Kathy Rice founded, has facilitated hundreds of visits to Cuba for U.S. citizens.
The groups have been varied -- some are 55-plus softball players looking to play ball against Cuba's finest retired baseball players; others are area Catholics looking to provide relief to needy Cubans.
"This is not a trip. It's an exchange," Eizenberg said of his work.
This past week, Eizenberg led a 17-person Boston-area delegation on one of those exchanges.
Combining tours of culturally significant sites with visits to Caritas Cubana relief programs, and culminating with attendance to the Papal Mass at Havana's Revolution Square, the group had the chance to get to know the Cuban people personally.
"To me, exchanges such as this are a great way to bring people to share memories, sing together, play dominoes, and get to know that we really are not that different from one another," he said.
"We may be politically different, but we are culturally entwined," he added.
Eizenberg is not new to the travel industry. He began working as a tour guide for high school students traveling to Europe four decades ago when he was a graduate student. That opened the door to a career of coordinating large groups of students on class trips to South America and Europe.
In 1997, he changed professions, becoming a professor at Bentley College in Waltham.
While teaching at Bentley College, he travelled to Cuba for the first time in 1998 to study small business creation.
"The first time I came, I was hooked," he recalled. "I felt something in myself that I hadn't felt in a long time -- and that was that I could make a difference. Not a big difference, but a little difference in individual people's lives."
He turned to Rice, his long-time coworker, and together they began ETA. He was granted a "people to people" license -- a permit from the U.S. government that allows travel to Cuba for educational or cultural purposes -- and by 1999 he was bringing groups to Cuba regularly.
Through Consuelo Isaacson, president of Friends of Caritas Cubana in Boston, Eizenberg got to know Caritas Cubana. He now includes visits to Caritas Cubana projects on every one of his exchanges.
Bringing Americans to the Caritas Cubana sites are a "great way to bring the United States to the people of Cuba," so that they can make "personal connections" with individual people, he said.
Page 1 of 2