Cuba Special Report: Pope, at Mass, calls for full religious freedom in Cuba
---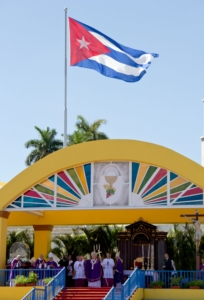 Pope Benedict greets the crowds following the March 28 Mass in Havana's Revolution Square. Pilot photo/Gregory L. Tracy
HAVANA (CNS) -- Preaching at Mass in Havana's Revolution Square, location of the headquarters of Cuba's Communist Party, Pope Benedict XVI called for full religious freedom and greater respect for human rights on the island.

"In Cuba steps have been taken to enable the Church to carry out her essential mission of expressing the faith openly and publicly," the pope said during his homily March 28. "Nonetheless, this must continue forward."

With President Raul Castro seated near the altar platform, the pope said, "I wish to encourage the country's government authorities to strengthen what has already been achieved and advance along this path of genuine service to the true good of Cuban society as a whole."

People started gathering for the Mass before 6 a.m. They prepared for the liturgy with songs and by listening to priests and a catechist explaining basic Church teaching on baptism and the Eucharist, the role of the pope in the Church and Pope Benedict's biography.

The Mass began at 9 a.m. under a clear blue sky with a light breeze blowing. As at the papal Mass in Santiago de Cuba March 26, thousands in the crowd were dressed in white T-shirts and baseball caps.

A priest led chants once the pope arrived and made his way in the popemobile through the crowd. One of the priest's louder inventions was "Benedicto, Benedicto, confirmanos en Cristo," ("Benedict, Benedict, confirm us in Christ").