Cuba Special Report: Boston pilgrims see work of Church in Cuba firsthand
---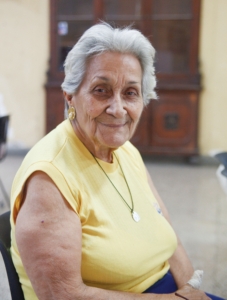 AnaMaria Claramunt, 86, comes daily to the senior program run by La Merced Church in Havana. "[The Casa] gives us everything... and most importantly they give us love," she said. Pilot photo/Gregory L. Tracy
HAVANA -- Weekday mornings, AnaMaria Claramunt, 86, wakes early, dresses hurriedly and makes a four-block trek past dilapidated buildings, avoiding stray dogs that litter the sidewalks, going to the place she calls home, the Casa de Abuelos.

There she and 59 other members of the senior day care center are greeted with a smile by Teresa Fernandez, the director of the Casa de Abuelos, Spanish for "House of Grandparents."

The center was one of the Church-run programs experienced by Boston pilgrims during their March 22-29 visit to Cuba culminating in the Mass celebrated by Pope Benedict XVI in Havana's Revolution Square.

"I love it here," said Claramunt, she said gesturing to her friends. "These people have become my family."

"[The Casa] gives us everything," she said, "food, clothes, a place to belong -- and most importantly they give us love."

Claramunt is one of the lucky ones, according to Father Justo Moro, a Vincentian priest from Spain who helps run the program.

"The government allows only 60 people to belong to the program because our kitchen and shower facilities can only accommodate that many," he explained.

Operated out of the Church of La Merced, a church that historically provided asylum for African slaves, the waiting list to get into the facility is long, something that Father Moro is hoping will soon change.