Fontbonne seniors present 'action on behalf of justice'
---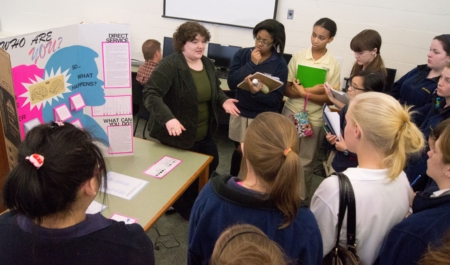 Fontbonne Academy students listen to a senior explain her project as part of the school's April 5 social justice fair. Pilot photo/Christopher S. Pineo
MILTON -- Fontbonne Academy in Milton opened its doors to guests on April 4 for the Social Justice Fair, an opportunity for seniors at the all-girl school to present the culmination of their work in the theology curriculum with public displays, talks and presentations on specific topics facing the world.

Head of school Mary Ellen Barnes said the Social Justice Program promotes Catholic values espoused by Boston's Sisters of St. Joseph, focused on the idea of the "dear neighbor," meaning anyone in the world who needs help or lives under threat from social injustice.

"It is based on the Gospel, that we have a responsibility to put our faith into action," she said.

The Sisters of St. Joseph sponsor the academy, and the academy maintains a focus on their influence and the teachings of the Church.

"'Action on behalf of justice is a constitutive dimension of preaching the Gospel.' That is taken directly from 'Justice in the World,' the American bishops' letter. That is what we live at Fontbonne," said Barnes.

The projects presented at the fair reflected a wide variety of social problems facing the world, on local, national and international levels.

"At Fontbonne we want our young women to recognize, to learn, that they are members of a global community, and that the 'dear neighbor' really is anyone in the world who is in need."