Fontbonne seniors present 'action on behalf of justice'
---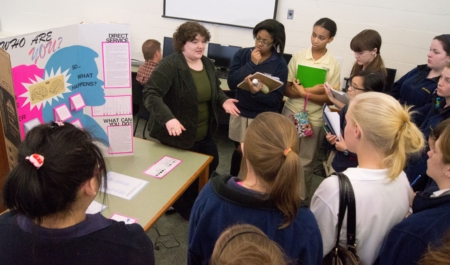 Fontbonne Academy students listen to a senior explain her project as part of the school's April 5 social justice fair. Pilot photo/Christopher S. Pineo
MILTON -- Fontbonne Academy in Milton opened its doors to guests on April 4 for the Social Justice Fair, an opportunity for seniors at the all-girl school to present the culmination of their work in the theology curriculum with public displays, talks and presentations on specific topics facing the world.
Head of school Mary Ellen Barnes said the Social Justice Program promotes Catholic values espoused by Boston's Sisters of St. Joseph, focused on the idea of the "dear neighbor," meaning anyone in the world who needs help or lives under threat from social injustice.
"It is based on the Gospel, that we have a responsibility to put our faith into action," she said.
The Sisters of St. Joseph sponsor the academy, and the academy maintains a focus on their influence and the teachings of the Church.
"'Action on behalf of justice is a constitutive dimension of preaching the Gospel.' That is taken directly from 'Justice in the World,' the American bishops' letter. That is what we live at Fontbonne," said Barnes.
The projects presented at the fair reflected a wide variety of social problems facing the world, on local, national and international levels.
"At Fontbonne we want our young women to recognize, to learn, that they are members of a global community, and that the 'dear neighbor' really is anyone in the world who is in need."
The project, which is required for graduation helps "each girl reflect on what it means to be a Catholic and what it means specifically in terms of living that Gospel out," Barnes said.
Each senior researched a specific issue of social injustice, did community advocacy or volunteer work against the injustice, and presented the subject to their classmates at the fair.
Although presenters that day did not all identify as Catholic, presentations reflected Catholic social values.
Senior Michelle Hurwitz attends Temple Beth Am in Randolph, and focused on religious awareness with a poster board display of different religious symbols that encouraged students to guess what each symbol meant.
"Our lack of knowledge can come across as ignorance, which can offend people. We don't even mean to half the time," she said.
She said her project presented people of different faiths as the "dear neighbor."
Other projects ranged from displays on Native American advocacy to a talk from two international students on the issue of child abandonment in China connected to the one-child policy in that country.
Yuanzhi Zhuang, an international senior from China, gave a talk on the topic with Lina Qin, also from China, who said her family hid her because of the one-child policy instituted in 1978.
"My mom sent me to my aunt's home and my uncle's home just like pretending I was not there, I was not born in the world," Qin said.
Over a break from school, the pair did their direct service work in China where they said parents would abandon children rather than have an abortion. Zhuang said she worked with disabled children in an orphanage near Beijing, where children with disabilities suffer abandonment at a greater rate than children without.
She said she was amazed by how a bed-confined boy she worked with continually smiled in spite of his situation, and that the experience enlightened her.
"I think I really gained a lot of experience from the children and their attitude toward their life, even though they are really little," she said.
Page 1 of 2