40 Days campaign saves life
---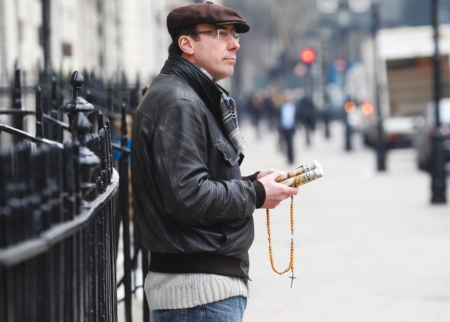 An activist holds a rosary and leaflets as he stands outside a branch of the British Pregnancy Advisory Service, a clinic that offers abortions, in central London March 14. The man was part of the global pro-life campaign 40 Days for Life. CNS photo/Andrew Winning, Reuters
ATTLEBORO -- Their trip to Attleboro began with Mass and a visit to the crisis pregnancy center and culminated with a life saved from abortion.
Lucile Cashin, who came with other parishioners from Our Lady of Lourdes Parish in Wellfleet, said she was "thrilled." The save will be counted as one of the more than 600 already reported during the most recent 40 Days for Life campaign, which concluded April 1.
On March 22, Cashin witnessed a young man drop a woman off at the Four Women Health Services and then cross through Angel Park, where the 40 Days participants pray. She approached him, saying, "We have some information I'd like to share with you. We are here to help you in anything that you need." Then, she handed him a leaflet she had obtained earlier from Abundant Hope Pregnancy Resource Center, which is just one mile away from the clinic.
Later, when he and the woman were leaving, they drove their car up to the prayer participants and told them, "Thank you very much; you saved our baby's life."
Cashin believes she was guided by the Holy Spirit to pick up the leaflets and then to approach the man. She also credited the prayers of 50 parishioners who are eight months into a nine-month prayer campaign for the unborn.
"Thanks be to God and to those who have prayed faithfully for the conversion of heart, for this one couple who will give their baby the gift of life," she wrote for the parish bulletin.
Cashin said the save proves that participation in the vigil, just like prayer, "makes a big difference" even when the results cannot immediately be seen.
She spoke about her first experience at 40 Days, saying, "The first time I went, it was heart wrenching to see girls go in and knowing what is happening in there -- a baby is going to lose its life."
She said that couples facing a crisis pregnancy need to know that help is available. In Attleboro, that means letting them know about the "wonderful work" of Abundant Hope, which opened its doors early last year.
The first 40 Days for Life was conducted in College Station, Texas in 2004. Reports from previous campaigns document 5,045 lives that have been spared from abortion, 61 abortion workers have quit their jobs and 21 clinics have closed their doors. This spring marked the 10th nationally-coordinated campaign. Vigils were held at 251 locations in the United States, Canada, England, Australia and Spain. Five Massachusetts locations -- Attleboro, Haverhill, Lynn, Springfield and Worcester -- participated.
Page 1 of 2