Catechists must work to instill Catholic identity, keynote speaker says
---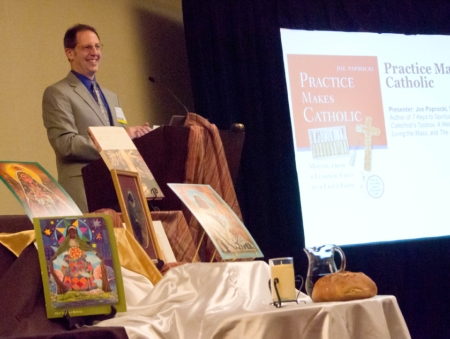 Catholic author Joe Paprocki delivers his keynote address "Practice Makes Catholic" opening the National Association of Parish Catechetical Directors Convocation April 11. Pilot photo/Christopher S. Pineo
BOSTON -- Among the 10,000 Catholic educators gathered for the 2012 National Catholic Educational Association Convention were parish catechetical directors who participated in their own special track of programs and workshop during the three-day gathering.

Catholic author Joe Paprocki kicked off the National Association of Parish Catechetical Directors Convocation with his keynote talk and workshop, "Practice Makes Catholic."

His address presented the idea that catechists need to help their students see and explore their own Catholic identity as they learn.

"We need to be more devout, more intentional, about instilling Catholic identity than we used to be, because the way that we used to grow up and the way young people are growing up today, are so completely different," he said.

In the accompanying slide show, Paprocki used a black-and-white photo of children playing "Mass" with a spaghetti strainer standing in for a collection basket, a young woman dressed up as a nun, and a young Paprocki dressed as an altar boy to show how the local Chicago culture expressed a Catholic identity in his neighborhood.

"See these other faces that I am circling? These are kids from our neighborhood. These are not family members. We would call our friends and say 'Do you want to come over and play Mass?' They would show up," he said.