Father Sepe named Secretary for Parish Life and Leadership
---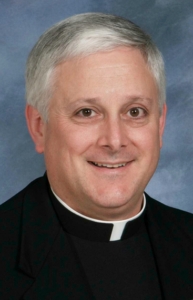 Father Kevin M. Sepe Pilot file photo
BRAINTREE -- The Archdiocese of Boston announced April 18 that Cardinal Seán P. O'Malley has appointed Father Kevin M. Sepe to succeed Father Thomas S. Foley as Episcopal Vicar and Secretary for Parish Life and Leadership July 1.

The episcopal vicar and Secretary for Parish Life and Leadership oversees various offices in the day-to-day operation and matters dealing with clergy life and parish life including the offices of Clergy Funds, Pastoral Planning, Clergy Formation, Clergy Personnel, Clergy Outreach, Pastoral Care of Priests, Priest Recovery Program, Senior Priests and Regina Cleri are all associated with this office.

In addition the secretary also oversees the offices of Ecumenical and Interreligious Affairs, Vocations, the Permanent Diaconate and Lay Ecclesial Ministries.

"The cardinal asked me to take the position and I was daunted by it, because I was aware of the expectations and the parameters of the responsibilities, but I also know that it is a vital role," said Father Sepe, who is currently pastor of St. Francis of Assisi in Braintree.

Father Sepe provided pastoral leadership at St. Francis of Assisi Parish in Braintree since 1998. After being ordained in 1986 he served at St. Joseph Parish in Quincy, Sacred Heart Parish in Middleboro, and St. Mary Parish in Randolph.