Monitoring students' use of social media adds to teachers' duties today
---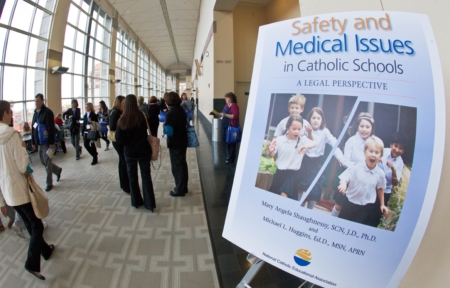 A sign stands outside the April 12 workshop on student safety presented Sister Mary Angela Shaughnessy Father Michael Huggins, both of Louisville, Ky. With increasing access to technology, educators must be "more vigilant than ever" of what students do online, said Sister Shaughnessy. Pilot photo/Gregory L. Tracy
BOSTON (CNS) -- When the reputation of a student, teacher or school can be brought down by a YouTube posting, blog or anonymous email, educators need to be "more vigilant than ever."
That was the advice for hundreds of participants attending an April 12 workshop during the annual National Catholic Educational Association convention in Boston.
More than 10,000 educators attended the April 11-13 convention filled with workshops focusing on professional and spiritual development and the challenges faced by Catholic schools and religious education programs in today's modern world.
During the convention, several workshops focused on the use of technology and the problem of online bullying. Sister Mary Angela Shaughnessy, a Sister of Charity of Nazareth, Ky., and executive director of the Education Law Institute in Louisville, Ky., told Catholic school teachers and administrators that they cannot ignore what students are doing online.
She said she gets asked often by school leaders: "Can't we just say it's not our problem?" since Facebook postings, for example, are not school-related activities.
Her response is point-blank: "No."
When students defame their school, teachers or other students online, it becomes a school-related issue that needs a response, she said.
"Don't give that up. Deal with the problem of cyberbullying," which she described as the top issue she gets questions about.
Sister Shaughnessy defined cyberbullying as "willful and repeated harm through computers, cellphones and other electronic devices" done by those under the age of 18 that could fall under felony charges for adults who take such actions.
She also said the basic premise of what these students are doing isn't new, it simply uses another venue.
As she put it: "The schoolyard bullies have moved online."
Which means teachers must be on the lookout and pay attention to clues they get that something's amiss.
She said teachers can be held liable for cyberbullying if they know, or even should have known, it was taking place.
Social media laws are not well-established, she said, but they do point to the need for response on the part of school officials when bullying takes place.
That means if a student happens to bring up something offensive that happened to him or her online, teachers should ask to see the offending item and tell the school principal about it.
"Schools can search computers just like they search lockers," she added.
But as teachers are paying attention to online activity, or getting involved in it themselves, they have to be careful to keep within their boundaries, she noted.
For example, teachers should not be friends with their students on Facebook nor should they be sending them emails late at night or providing students their cellphone numbers, she said.
Page 1 of 2