From Cardinal Seán's blog
---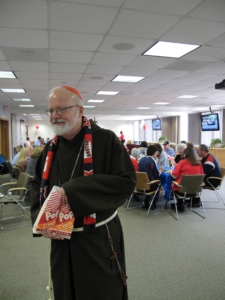 'It also was the day of the Red Sox home opener (4/13). So after the Mass we had a sort of "take me out to the ballgame" lunch for the staff with hot dogs, hamburgers, popcorn and such.' Pilot photo/CardinalSeansBlog.org
... on Thursday (4/12) I was visited by Paul Fanning and Connor Schapiro, members of the St. Boniface-Haiti Foundation that runs the Catholic hospital in Fond des Blanc in Haiti. This is a local group that was founded in St. Boniface parish in Quincy. The foundation has done an extraordinary job providing healthcare for the Haitian people. They run one of the largest and best hospitals in the country. Paul is on the board of the foundation and Connor has lived in Haiti for quite a long time and now splits his time living in both the US and Haiti. They came to give me an update on some their activities.
Lynnfield parish anniversary
That afternoon (4/14) we travelled to Lynnfield to celebrate the 75th anniversary of Our Lady of the Assumption Parish. Father Jack Farrell has been pastor there for a number of years and has done an extraordinary job. The parish is very vibrant; they have a youth choir that sang and a very good parish choir. There were also a number of high school-aged altar servers -- there were just so many signs of vitality. It was very good to be able to be together with the people of the parish as they marked this important milestone.
Ge'eze and Greek Orthodox Easter
Just as Metropolitan Methodius joined us for our annual Chrism Mass at the cathedral during Holy Week, and brought us greetings from the Greek Orthodox community (as regular readers will remember), so I went to be present for their Easter vigil which this year was the Sunday after our Easter (4/15), according to the Julian calendar. During the liturgy I was invited to proclaim the Gospel and address the people. It is always a great honor and pleasure to join our Orthodox brothers and sisters for this most holy night of the Christian year. I came back directly from the Greek Orthodox vigil to attend the Easter celebrations of our Ge'eze Rite community that were still going on. These are the Ethiopian and Eritrean Eastern Rite Catholics whose community is based in the Cathedral of the Holy Cross.
Knights' Lantern Awards
Page 1 of 2