Young people gather for Eucharistic Congress
---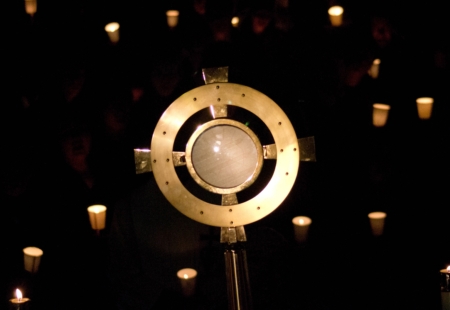 A monstrance holds the Blessed Sacrament during the Eucharistic procession to close the Fifth Annual Eucharistic Congress in Boston's North End April 27 and 28. Pilot photo/Christopher S. Pineo
BOSTON -- At the Fifth Annual Eucharistic Congress for College Students and Young Adults, young Catholics explored the importance of the Eucharist in the Catholic faith with sacraments, speakers and a procession through the North End.

The Archdiocese of Boston's Vocations Office, the Office for College Ministries, and The Office for the New Evangelization of Youth and Young Adults collaborated with restaurants and businesses in the North End to present the Eucharistic Congress themed "Catholic: Ordinary People, Extraordinary Lives" for almost 400 college students and young adults from the evening of Friday April 27 through late night Saturday April 28.

To highlight the theme of the congress organizers included speakers on related themes and service projects for the young people.

"Our guest speakers predominantly focused on how we can live the Eucharist in our daily lives through sanctifying our work, school, and relationships," Christina Siebertz, one of the organizers, said.

Sister Helena Burns, FSP, Father Derek Borek and catechist Damon Owens each gave keynote addresses over the course of the two-day gathering.

In her talk Friday evening talk, "Bodies are Not Optional: Living Catholic in the Digital Age," Media and film student Sister Helena, a member of the Daughters of St. Paul, explored Pope John Paul II's "Theology of the Body" in conjunction with philosophies of Daughters of St. Paul founder Blessed James Alberione.