Moran honored by Pro-Life Legal Defense Fund
---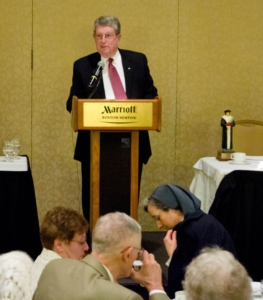 Attorney Philip D. Moran delivers remarks after accepting the Thomas More Award from the Pro-Life Legal Defense Fund April 27 in recognition of his continued work to protect the unborn. Pilot photo/Christopher S. Pineo
NEWTON -- At their annual dinner April 27, the Pro-Life Legal Defense Fund (PLLDF) honored Attorney Philip D. Moran with the Thomas More Award in recognition of his continued work to protect the unborn.

"Phil has a long and distinguished career as a lawyer who has stood front and center for the unborn for forty years," said Ambassador Raymond L. Flynn, as he presented the award.

The Thomas More Award recognizes recipients for their courage in defending the values of the Catholic faith in the public square. St. Thomas More was executed in 1535 for treason against the Crown of England after Henry VII left the Church, and More did not attend the coronation of the king's second wife Anne Boleyn.

"He was always standing up, and I think that is what this event is all about. It is about people who have courage, people who are not afraid, who defend their values, and speak out in the public forum," Flynn said of St. Thomas More before the ceremony.

Moran received the award in recognition for his years of service as PLLDF president from 1998-2011. He was a founding member of Mass Citizens for Life, and worked with Flynn and U.S. Congressman Henry Hyde on the Hyde Amendment, which barred some public funding from covering abortions.