Havana cardinal speaks at Harvard, exile community reacts
---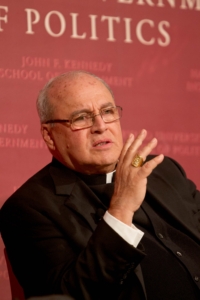 Havana Cardinal Jaime Ortega speaks at the forum entitled "Church and Community: The Role of the Catholic Church in Cuba" at Harvard University April 24. Pilot photo/Gregory L. Tracy
CAMBRIDGE -- Speaking at Harvard University April 24, Havana Cardinal Jaime Ortega Alamino said, "The Church is living a springtime of faith in Cuba."

He made his remarks as part of a forum entitled "Church and Community: The Role of the Catholic Church in Cuba" at the Harvard University Kennedy School of Government. The forum was sponsored by the David Rockefeller Center of Latin American Studies of Harvard University.

Together with Cardinal Seán P. O'Malley, Archbishop of Boston, Cardinal Ortega presented his view of the role the Church has played in Cuba during the recent past, and his vision for the future.

"The Church is living a spring of faith in Cuba," Cardinal Ortega said. "There is a profound reawakening of the Church."

"We are aware that the footsteps of [Pope Benedict XVI's] visit have left the Cuban people well impressed by his meekness and kindness," Cardinal Ortega said, adding that the enthusiasm following the pontiff's visit to Cuba "will be a special occasion to delve more deeply into that faith that we have seen living in the hearts of our Cuban brothers and sisters."

"There remains then a profound feeling of gratitude and hope in our Church in Cuba and in all our people through the visit of Pope Benedict XVI," he said.

Echoing Cardinal Ortega's words, Cardinal O'Malley also noted that the Church in Cuba has seen great growth since Pope John Paul II made his historic visit to the island nation.