From Cardinal Seán's blog
---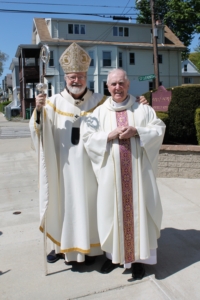 Sunday (4/29), we had the Centennial Mass for St. Clement Parish in Somerville, Father Dennis Dever's parish. Pilot photo/CardinalSeansBlog.org
Friday (4/27) I was very pleased to attend the annual American Cardinal's Dinner to benefit the Catholic University of America. The dinner is held every year to raise money to fund scholarships to help many deserving students to have an opportunity to attend CUA, including many from the Boston area. Each year, it is held in a different city, and this year it was hosted by Cardinal George in Chicago. There was a beautiful Mass in Chicago's Holy Name Cathedral, presided over by Cardinal George. I was very pleased to see the new renovations of the cathedral. Like our cathedral, the Cathedral the Holy Cross, the Cathedral of Chicago was built by the famous architect Patrick Keely. However, they had a fire and were forced to do extensive renovations, but they turned out just marvelously.
I continue to be impressed by the wonderful work John Garvey is doing as president of Catholic University. I was very pleased that I was able to be part of this very important event to support the U.S. Bishops' University.
Little Sisters of the Poor fundraiser
Also that evening (4/28), I attended a fund-raising reception for the Little Sisters of the Poor held at the Harbor View Hotel. The Little Sisters of the Poor have such a wonderful ministry, being devoted particularly to the care of needy elderly. Here in Boston, they run the Jeanne Jugan Residence in Somerville. In my remarks at the reception, I told the guests the sisters are a good example of a Christian response to people who were facing the last stages of life, and that our opposition to physician-assisted suicide finds a very concrete expression in the sense of solidarity and charity the Catholic community provides through ministries such as that of the Little Sisters of the Poor.
Centennial Mass in Somerville
Page 1 of 2