Parish honors long-time pastor with 'mortgage burning'
---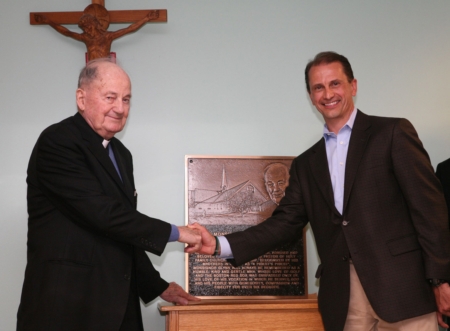 Holy Family Parish, Duxbury parishioner Tom Guilfoyle presents former pastor Msgr. William F. Glynn with the plaque to be placed on the new parish center to be named in the monsignor's honor. Photo courtesy/Julius Prince, Prince Photography
DUXBURY -- Parishioners of Holy Family Parish in Duxbury fulfilled a life-long goal for a beloved former pastor when they "burned the mortgage" at a celebration of the anniversary of his ordination, on April 28.

After raising more than $300,000 through a committee headed by parishioner Tom Guilfoyle the parish celebrated the final payment in conjunction with the anniversary of Msgr. William F. Glynn, 89, who was ordained 65 years ago.

Mary Shea DiCenzo worked for Msgr. Glynn at Holy Family for 22 years, and now works at St. Elizabeth's in Milton. She said paying off the mortgage was one of Msgr. Glynn's major goals, so once the money was raised, the parish got a copy of the mortgage from the Archdiocese of Boston to celebrate.

"We literally burned the mortgage," she said.

Over the years through collections in the pews, donations from parishioners, and a final push from the committee created to complete the payment process the parish paid down $3.3 million mortgage.

Msgr. Glynn celebrated a Mass at Holy Family Parish for the occasion.

At the celebration, the committee and guests dedicated the new parish center to Msgr. Glynn and unveiled a plaque with the priest's likeness on it.

Msgr. Glynn said he was ready for the burning of the mortgage, but the honors took him by surprise.

"They are also going to put a plaque up on the wall. I wasn't ready for that either," he said.